Creative Course Delivery Introduction

Video Overview by Hillary Fuhrman, Interim Director, Institute for Teaching & Learning
The Academic Continuity Team (ACT) is made up of faculty, staff, and students from the Institute for Teaching and Learning, Department of Cyberlearning, and Information Technology Services. In collaboration with the Taskforce to Determine Appropriate Creative Course Delivery, the following RESOURCE TOOLKIT has been created to support the various course modalities (see sidebar on this page for modalities). These outcomes, organized into 6 groups (Getting Started, Instruction Basics, Instruction Advanced, Engaging Students, Supporting Success, and Connecting Students) have been identified as strategies for ensuring your course, regardless of modality, is providing opportunities for students to learn. If you click an outcome, it will direct you to a page of best-practices, technology guides, and related modalities.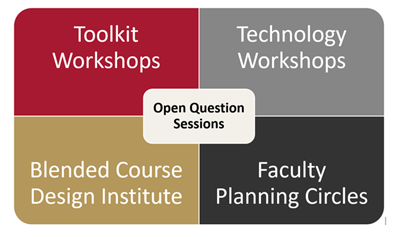 We are excited to offer a variety of options to meet faculty needs as they prepare high quality courses that focus on student learning, connection, and safety. All workshops will be recorded and made available on the ACT website. Visit the ACT Training page for more detail on each workshop and training opportunity
If you need any additional support, feel free to schedule a consult with an ACT member.

Resource Toolkit