Now hiring tutors for the Fall 2022 Semester. Apply here.
Welcome to the Resch Academic Success Center!
Our goal is to serve all students at YSU no matter where you are in your educational journey.
And if you have never used our services before, rest assured we welcome you with open arms!
Let's do this together!
At the Resch Academic Success Center, located near Dunkin Donuts, we understand how college students learn. It's a powerful thing to figure that out and we love helping students with that process! Come here to unleash the power of learning in a judgment-free zone.
Services we offer:
NCLCA Website Award Winner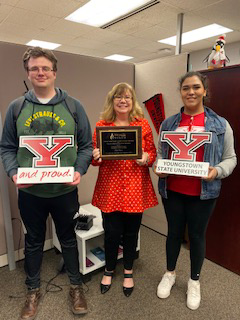 Left to right: Adam Nickells, Becky Varian, Gianna Jones