The Writing Center's mission is to help students become more independent, confident and successful writers. Our consultants help current YSU undergraduate and graduate students, faculty and staff through the WC's free basic services:
Consultations for individuals or small groups
Assessment of writing strengths and weaknesses
Guidance for essays, lab reports, history papers, résumés and other writing projects in all disciplines
Help with documentation in APA, MLA, Chicago and other styles
Preparation advice for writing portions of standardized tests, including the GRE, GMAT, LSAT, etc.
Instruction in linguistics
Tutoring for ESL students
Sessions for peer reviews
The Writing Center has three physical locations at Maag Library, Stambaugh Stadium and the Metro College at Southwoods. Appointments, walk-ins and online consultations are available, and clients are permitted either two walk-ins or an appointment and a walk-in per week.
Clients who miss two appointments or cancel three appointments may only use the WC on a walk-in basis for the rest of the semester.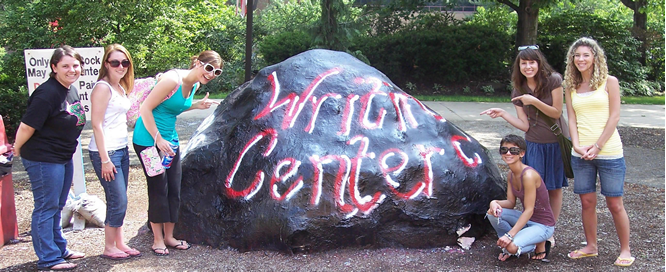 Why the Writing Center?
With its expanse of computer facilities, libraries and resources, the WC offers clients much more than just tutoring services.
Technological resources
Windows-based computer labs with printers *
Projectors for speech rehearsal opportunities
MS Office guidance
PowerPoint tutorials and podcasts
WiFi
Library resources
Composition books
Reference materials
Style guides
Writing and grammar handouts
Literature on YSU services
Outside assistance
Tours and orientations
Classroom help
Workshops
Placement testing
* Our computers and printers are available to all students on a first-come, first-served basis. Priority is given to clients or consultants who need a computer during a session.