As of April 27, Wick Primary Care is now Mercy's only flu clinic. Mercy Health has transferred all student health services back to Wick Primary Care. As this site is still a flu clinic, it is critical that students call (330) 747-4660 first.
Flu Clinic Location
Mercy Health - Wick Primary Care
330 Wick Ave | Youngstown | 855-884-7150
---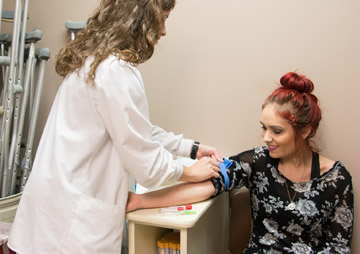 OUR FOCUS
Students have unique health care needs, and no one understands that more than the team at Wick Primary Care at YSU.
Call to make your appointment today.
STUDENT SERVICES AT NO COST ( INCLUDED IN STUDENT HEALTH FEE) :
Diagnosis and treatment of minor injuries and administration of first aid within the office
Continuation of allergy shots, administered if serum and written instructions are provided by an allergist
Nutritional diagnosis and counseling
Orthopedic evaluation of injuries to bones, muscles, and joints within the scope of a primary care practice
Dermatological problems
Initial diagnosis and need for simple physical therapy
Wellness and prevention care: physicals, gynecological services
Illness care
Point of care tests including urinalysis, rapid strep, rapid flu, hemoglobin, Glucose, A1C, Fecal Occult Blood Testing, urine pregnancy test
Immunizations which shall only include TDAP, Hepatitis B, and TB skin test
Minor procedures
Expanded services include access to walk-in care for acute needs, psychiatric services by appointment, free access to MyChart, access to online scheduling
SERVICES THAT WILL BE BILLED (NOT INCLUDED IN STUDENT HEALTH FEE) :
Blood work drawn and sent out for processing to the Mercy Health Lab
Lab cultures sent out for diagnosis and treatment of STDs
Any services referred or performed outside of the office including but not limited to specialty visits, radiology services, imaging and other diagnostic testing at the hospital, ER visits, and hospital admission
Any immunizations requested beyond those listed above
All YSU students must be currently enrolled and must provide a photo ID, YSU ID, and insurance card.
Obama Care:
Compare Health Insurance Plans in Ohio
link to compare plans
---
INSURANCE INFORMATION FOR INTERNATIONAL STUDENTS
For information on insurance for international students contact the International Programs Office at 330-941-2336.

ILLNESSES OF CONCERN
TO COLLEGE STUDENTS
---
Seasonal Influenza Vaccinations
---
Coronavirus Disease 2019 (COVID-19)
---
---
DIAL 

911
... on a campus phone for a medical emergency. The YSU police answer the 911 phone. Please be ready to provide them with your location and details.
MERCY HEALTH - WICK PRIMARY CARE AT YSU AND WICK WALK-IN CARE
---
330 Wick Ave.
Youngstown, OH 44503
P: 330-747-4660
F: 330-747-4661
Wick Primary Care at YSU Hours:
Monday – Friday
8:00 AM – 5:00 PM
Walk-In Care Hours:
Monday – Friday
8:00 AM – 5:00 PM