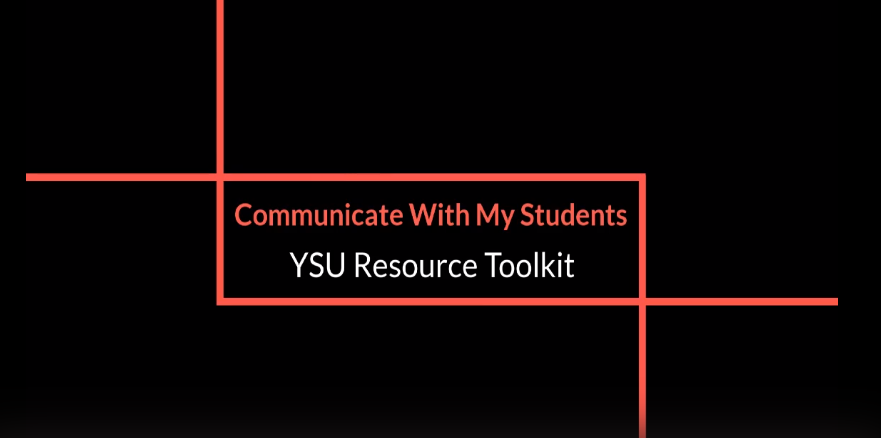 Click the image above to view the video!
This video is a walkthrough of the strategies, technology, and resources found on this outcome webpage. It was recorded during the summer Resource Toolkit Workshop Series (July 2020). You can access the video using your YSU credentials. Please contact atkaufman@ysu.edu if you are unable to access the video.
---
Communication happens informally before, during, and after class in a face-to-face setting therefore it is important to be proactive when communicating with your students outside of that traditional environment. Communicate with your students early and often. We recommend communicating about your course modality and meeting plan before the first day of class (check out some sample language to get you started). Plan your communication strategy in advance and open the channels of communication.
Establish and communicate to students your preferred contact method and be clear about your availability. Inform students how you will be communicating with them (announcements, email, messages, etc.) and how often. Keep consistent throughout the semester. Students are most familiar with receiving communication via email. Therefore, if you post an announcement or assignment in Blackboard, consider also sending an email notification. Consider sending Blackboard announcements (PDF Tutorial; Video Tutorial; Web Tutorial) on a weekly basis to introduce the weeks' objectives, schedule, and content.  
These other guides may be useful as you think through your communication strategy:
Developing a Communication Plan

We recommend developing and sharing a COMMUNICATION PLAN with your students. In this plan, include:

Your preferred contact method

Some options: YSU email, YSU phone (can forward), Blackboard messaging, Microsoft Teams Chat, Webex Teams, etc...

Your availability

It doesn't need to be 24 hours a day!
It is important to set and communicate expectations about how long it typically takes you to respond to an email

How you will be primarily communicating

Students are most familiar with email
Utilize Blackboard Announcements weekly to introduce or reiterate the weeks' objectives

Office Hours' time & modality

Classroom Safety & Health Protocols recommend that office hour meetings should take place remotely/virtually whenever possible.
See the next section for more detail on technology to support remote Office Hours

Technology to Support Remote Office Hours

It is important to hold Office Hours regardless of the modality in which you are delivering your course. You can hold your Office Hours remotely through the following tools:

Additional Ways to Communicate

Be present in your course just as you would in your classroom. Give timely feedback on assignments, engage in discussion boards, and be personable.