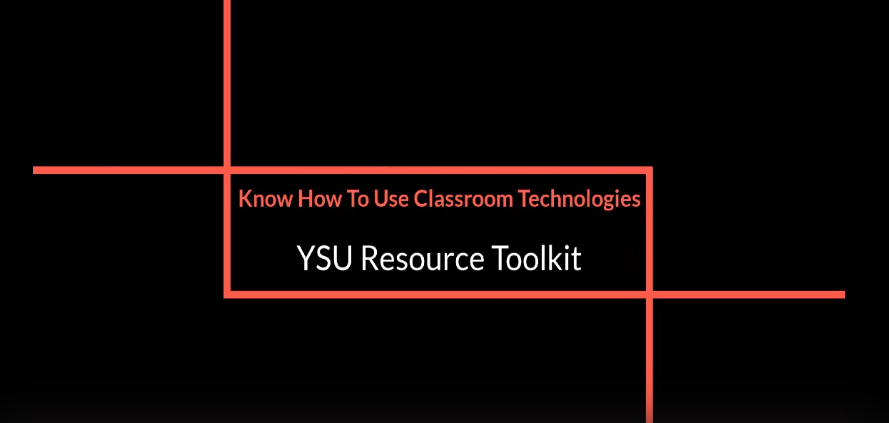 Click the image above to view the video!
This video is a walk through of the strategies, technology, and resources found on this outcome webpage. It was recorded during the summer Resource Toolkit Workshop Series (July 2020). You can access the video using your YSU credentials. Please contact atkaufman@ysu.edu if you are unable to access the video.
---
Students want technology that is:
Consistent across their courses
Simple to use
We recommend keeping the technology as simple as possible for your courses. In addition, one of the themes from the open-response comments on the YSU 2020 Student Covid-19 Survey, was that students desired consistency across their courses in regard to technology. Students have access to the following tools:
Microsoft Office Suite (Word, PowerPoint, Excel, OneNote, OneDrive, Teams, etc.)
Microsoft Azure Education Portal
Blackboard Learn, Ultra, and Collaborate
Webex Meetings
YSU App Cloud & Engineering Cloud
The software YSU provides is not the ONLY way to deliver your course online, but it is the option with the most on-campus support for you and for your students. You may choose to deliver your content through other methods; however, we encourage you to consider using YSU supported tools since they are familiar to students and supported by trained campus staff. In whatever method(s) you decide to use to deliver your course, be consistent and communicate expectations with your students. Students primarily rely on email for communication from faculty, share this guide with your students if they are not receiving your Blackboard emails.
Resources for Students
YSU's Information Technology Services has created a curated list of technology resources in their Knowledge Base for students. Some essential guides that you may choose to share with your students, include, but are not limited to:
Please feel free to share this Introduction to Blackboard video created by First Year Student Services with your students: 
In addition to the student resources from ITS, the Maag Library and Center for Student Progress have both created resource pages for students that include links to guides on such as being a successful online learner and how to access online research databases.

Downloading Desktop Office Applications
Please share this short video (created by Electrical and Computer Engineering faculty, Dr. Mike Ekoniak) with your students to provide guidance on how to use their YSU credentials to download Desktop Office Applications (e.g. Office, PowerPoint) for free to their personal computers. If possible, we recommend sharing this video (and many of the resources above) in your Blackboard course to provide an easy place for your students to find technology support.
Test Proctoring Guides for Students
YSU partners with Examity and Respondus to provide support for automated test proctoring.  Respondus is the preferred tool for Fall 2020. Here are guides you can share with your students to support them in taking a proctored test: