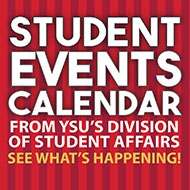 Go to the Student Events Calendar webpage
Hours of Service
---
BUILDING HOURS
Monday–Thursday | 7:00am – 10:00pm
Friday | 7:00am – 9:00pm
Saturday | 9:00am – 9:00pm
Sunday | 3:00pm – 8:00pm
---
ACCESSIBILITY SERVICES
Monday–Thursday | 8:00am – 5:00pm
Friday | 8:00am – 4:00pm
Testing by appointment
CHICK-FIL-A
Monday–Thursday | 10:30am – 6:30pm
Friday & Saturday | 10:30am – 5:00pm
THE COVE
(student recreation and lounge space)
Monday–Thursday | 8:00am – 10:00pm
Friday | 8:00am – 9:00pm
Saturday | 9:00am – 6:00pm
Sunday | 3:00pm – 8:00pm
YSU DINING OFFICE/CHARTWELLS
Monday–Friday | 9:00am – 3:00pm
GRAPHIC SERVICES
Monday – Friday | 8:00am – 5:00pm
GUEST SERVICES
Information, IDs, Meal Plans
Monday–Friday | 8:00am – 9:00pm
Saturday | 9:00am – 5:00pm
Guin's Gadgets
(Tech Store)
Monday–Friday | 9:00am – 4:00pm
THE HUB
Dunkin'
Monday–Thursday | 7:30am – 5:00pm
Friday | 7:30am – 3:00pm
Hissho Sushi
Monday–Friday | 10:00am – 2:00pm
KILCAWLEY STAFF OFFICE
Monday–Friday | 8:00am – 5:00pm
IT SERVICE DESK
Monday–Friday | 8:00am – 5:00pm
(Phone service available 24-7. Call 330-941-1595)
JAMBA JUICE
Monday–Friday | 9:00am – 3:00pm
KC FOOD COURT
Choolaah
Monday–Friday | 11:00am – 3:00pm
The Den
Monday–Friday | 9:00am – 3:00pm
Wild Pie
Monday–Friday | 10:00am – 2:00pm
PETE'S TREATS AND MORE
Monday–Friday | 8:00am – 5:00pm
Saturday | 9:00am – 5:00pm
STUDENT ACTIVITIES
Monday–Friday | 8:00am – 4:30pm
SNACK & CHILL AT THE COVE
(ice cream, coffee, and snacks!)
Monday–Friday | 10:00am – 10:00pm
Saturday | 10:00am – 6:00pm
STUDENT COUNSELING SERVICES
Monday–Friday | 8:00am – 5:00pm
WENDYS
Opening delayed due to technical difficulties
Once open the hours will be as shown
Monday-Thursday | 11:00am – 5:30pm
Friday | 11:00am – 2:00pm
Holiday and Break Schedules will be Announced.
Events
What's going on today? tomorrow? See the live calendar of events for Kilcawley Center.
Make a reservation in Kilcawley Center.
---
Quick Links
Meal Plans
On-Campus Catering - by Chartwells
Kilcawley Center Map pdf*
Student Affairs Events Calendar
Times2Dine - (Campus Restaurant Hours)
Kilcawley Center
Youngstown State University
One University Plaza
Youngstown, OH 44555
phone: 330-941-3571
fax: 330-941-1758


Complete list of Contacts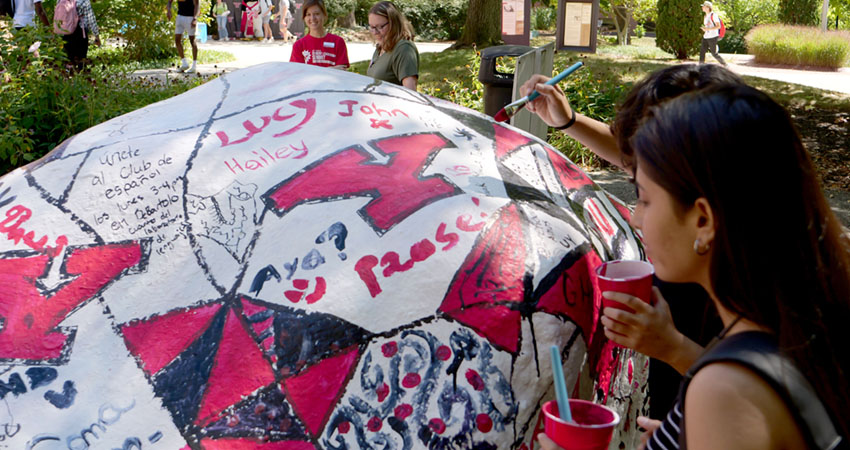 The Rock
at Kilcawley Center
The Rock, located on the campus core outside of Kilcawley Center, has been a space for expression by the YSU campus community since it received its first coat of paint in 1967. It has now been consistently painted for more than 55 years. There is not a reservation or approval process for painting The Rock. Individuals and organizations are welcome to paint the rock at any time, understanding that another message or design could be painted over it within a short timeframe. The Rock is the only piece of university property permitted to be painted by persons not affiliated with university facilities management and/or contracted by the university for professional painting services. Persons or entities painting the rock are responsible for the disposal of all waste and will ensure the area is left in a clean condition.
The Rock is an area of free speech. The university will not cover messages painted on The Rock unless language implies threats or harm to an individual.
The Rock is only to be painted by YSU students, faculty, or staff. Off-campus groups, business, or individuals are not permitted to paint the YSU Rock.