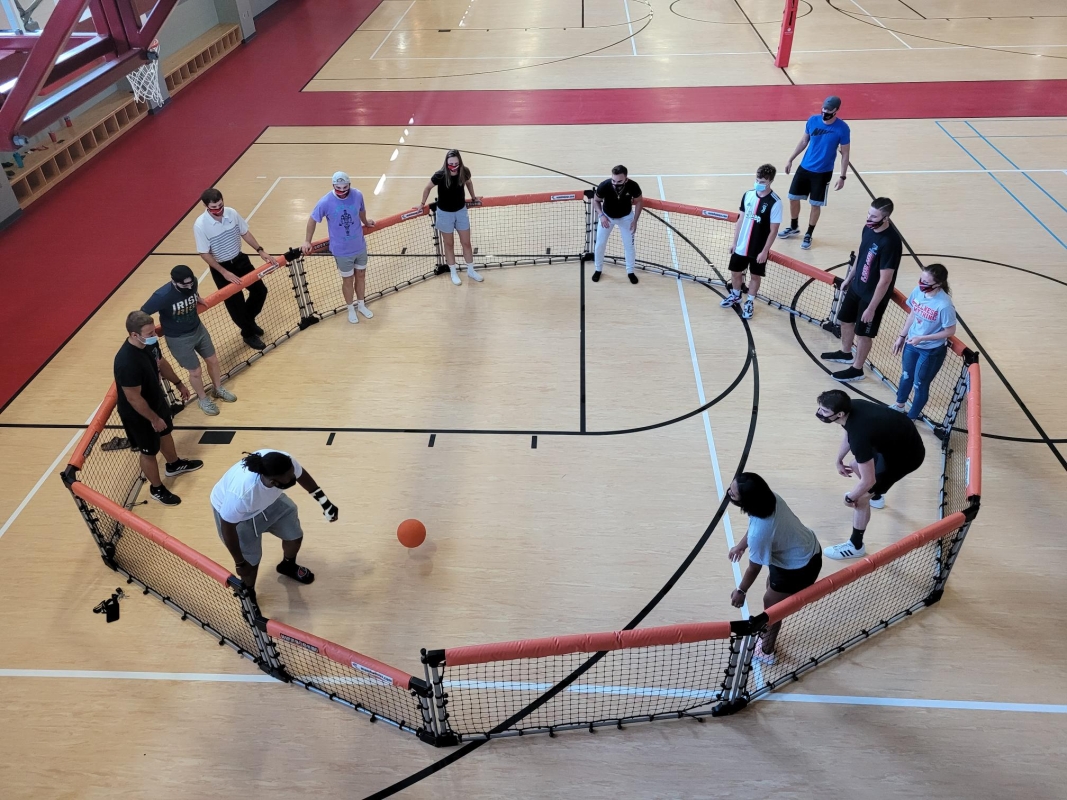 ---
The Department of Campus Recreation is one of the most popular places on campus for student employment. The posting can be found on the university website.
We are currently accepting applications on an as-needed basis. Our Professional Staff will reach out to you should a position become available. Applications are active during the semester they are submitted.
Scroll down and click "Apply Here" to submit your application, cover letter, resume and availability for consideration for any of the positions listed below. To read job descriptions, check out our Job Descriptions.
For questions, please contact Gabrielle Wagner
To read job descriptions, check out our Job Description web page. For an overview of available areas, see the descriptions below.
Apply Here: https://survey.alchemer.com/s3/6335996/REVISED21-Job-Application-For-Campus-Recreation
---
For more information about job descriptions, please visit our Job Description web page.
Administrative Office– Office Assistants and Supervisors contribute to general administrative operations for the Department of Campus Recreation.
Adventure Recreation –

Wall Staff and Supervisors coach patrons on our Climbing Wall and belay them to the top.
Teambuilding – Teambuilding Facilitators assist with instructing, leading, and producing teambuilding and special events.
CPR / First Aid Student Instructors hold and keep current American Red Cross Instructor Certification and independently teach Adult and Pediatric CPR/First Aid/AED, Lifeguarding, Wilderness First Aid, and BLS courses.

Club Sports– Student Monitors and Supervisors assist with facility and equipment usage during practices and competition for Club Sports purposes.
Facility – Monitors and Supervisors assist patrons utilizing the Andrews Student Recreation & Wellness Center.
Fitness/Wellness:

Group Fitness Instructor- Certified Group Fitness Instructors guide participants through safe, effective and motivating group class sessions.
Personal Trainer- Certified Personal Trainers support clients as they achieve their fitness and health goals.
WRC- Wellness Resource Center Monitors help patrons navigate and understand fitness assessments and various other Department initiatives.

Intramurals- Referees, Officials and Supervisors oversee intramural games and events. Check out this video of our Intramural teams!
Marketing – Student Monitors assist the Department of Campus Recreation with our marketing materials and strategies.
Summer Camps – Summer Camp Counselors and Supervisors assist with Pete & Penny Summer Camp. This is a summer position only.
---
Graduate Assistant – Graduate Assistants supervise student staff and assist with development and implementation of programs. For more information, go to our Graduate Assistantship web page.

Applications will be accepted until March 1 for the next upcoming academic year. Subject to change.
Internships/Practicum/In-service – We have academic-related positions, with paid and unpaid work experience. Please apply one semester prior to semester with internship.
All positions require a department application, cover letter and resume to apply.
Department of Campus Recreation
Andrews Student Recreation and Wellness Center
Youngstown State University
One University Plaza
Youngstown, Ohio 44555
(330) 941-2240 (Administrative Office)
---
Student Recreation Advisory Committee (SRAC) –
The Student Recreation Advisory Committee, SRAC, is an opportunity for student employees within the Department of Campus Recreation to advance their leadership, event planning, and policy development skills. The organization meets monthly to coordinate philanthropic events like Pedal for a Purpose or the Kiss Your Ex Goodbye Clothing Drive, review and propose Campus Recreation policies and procedures, and serve as a liaison between student employees and the professional staff. Members represent our Administrative Office, Adventure Recreation, Fitness and Wellness, Club Sports and Summer Camps, Facility, and Intramural teams, and utilize their diverse experiences to unite in the mission to encourage wellness within the Youngstown State community.
Contact Gabrielle Wagner, at gcwagner@student.ysu.edu for more information.
---
Andrews Risk Management Delegation (ARM'D) -
A group of Campus Recreation students & the Coordinator of Andventure Recreation that meets monthly to discuss incident reports and safety concerns within Campus Recreation. Contact RJ Markowitz, ramarkowitz@ysu.edu for more information.