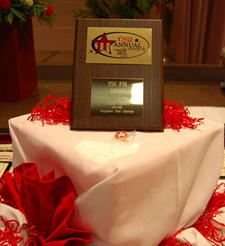 Sponsored by the Student Government Association, the Division of Student Experience and the Student Activities Office, the Annual Student Awards Banquet recognizes current students, staff members and groups/organizations for academic excellence and overall achievement during the academic year.
Honorees will receive recognition through Annual Student Awards Banquet, scheduled for Thursday, April 25 at 6pm. Applications are available at the beginning of spring semester and deadline for applications and references is Friday, March 1, 2024.
Further questions can be obtained by calling (330)-941-3575.
Descriptions and past recipients for the following awards applications are listed below.
The complete listing of 2022-23 Award Recipients
---
LEADERSHIP SCHOLARSHIPS
For Outstanding Undergraduate Campus Leaders
AVI Leadership Scholarship
Hirsch-Satrum Leadership Scholarship
​Application
This Application requires one to three references. Please email the following link to your references.
Reference Form
---
CONSTELLATION AWARD
Outstanding University-Wide Program

More Information
Application
---
GINA TENNY MEMORIAL SCHOLARSHIP
---
LIBRA AWARD
Outstanding Advisor Award

More Information
Application
---
MENTOR OF THE YEAR
For Faculty/Staff Member Who has Contributed the Most to the Development of a YSU Student

More Information
Application
---
MULTICULTURAL LEADERSHIP AWARD

More Information
Application
This Application requires one to three references. Please email the following link to your references.
Reference Form
---
NOVA AWARD
Most Promising New Campus Organization

More Information
Application
---
ORION AWARD
For Outstanding YSU Student Organization

More Information
Application
---
SIRIUS AWARD
For Student Employee of the Year

More Information
Application
---
YSU PIN AWARD
For Outstanding Graduating Student Leaders

More Information
Application
This Application requires one to three references. Please email the following link to your references.
Reference Form