Good News About Federal Frenzy
(in case you were wondering)!
Penguin Productions Art and Music Festival will take place RAIN OR SHINE!
Now that our venues includes Penguin City Brewing Company (with 2 stages) AND the Youngstown Flea Building, there's plenty going on indoors.
Come and enjoy!
And Woodstock happened in the rain! Dress for the weather! Bust out rain boots, umbrellas, and rain jackets! And… We have ponchos!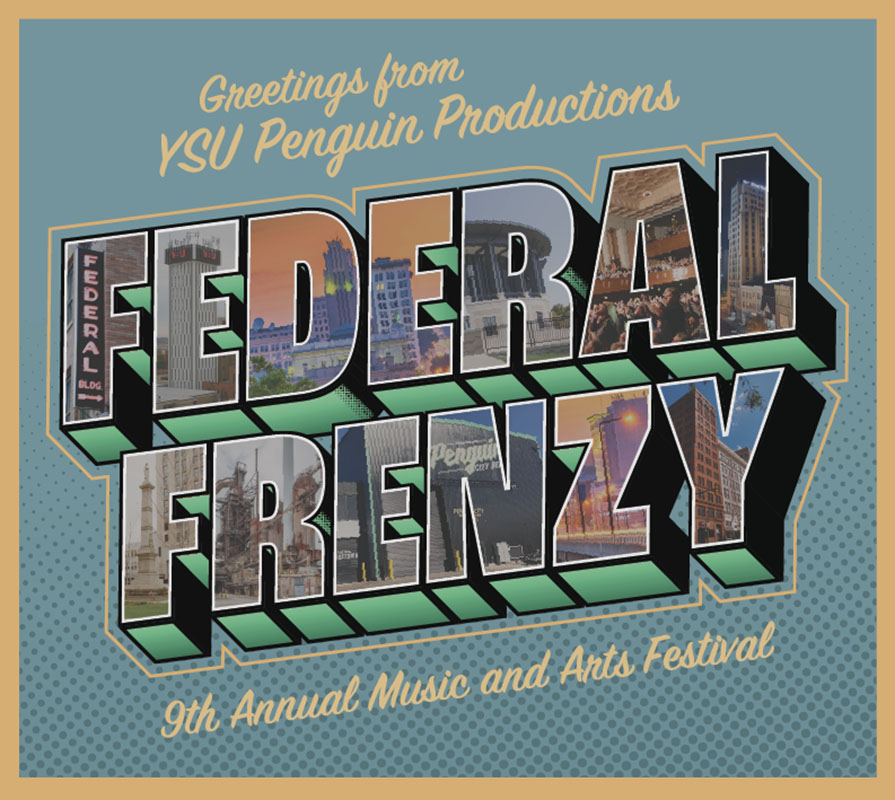 Youngstown State University Penguin Productions is proud to announce the ninth annual FEDERAL FRENZY on Saturday, April 22, 2023. This year, the event will be featured on East Federal Street with Penguin City Brewery and the Youngstown Flea. The streets and buildings will be filled with vendors, food trucks, live artistry, interactive activities, and performances by local, regional, and national acts. This family-friendly music and arts festival is a celebration of the many talents of Youngstown State University and the greater Youngstown community.
The event will feature performances by 24 musical acts on two indoor stages and two outdoor stages. Be sure to check out performances at YSU Penguin Productions Mainstage in the middle of East Federal Street, the Summit FM Stage in Penguin City's Pollock Ballroom, the Penguin City Taproom Stage, and the Jambar Student Media Stage at the Youngstown Flea.

MICK JENKINS
Candace Campana • The Goners • Indre • Fine Young Men
Lvrboy • Fifth & Aurora • Larry Elefante • Rami Feinstein
Brooke Surgener • Katy Robinson And The Wanderers
Marc Lee Shannon • The Commonheart • UNC D • Shelby Olive
Riley Burke • Demos Papadimas • Rolling Boxcar International
CPA Jake • Sedona • Dom Deshawn • Madame Marlowe
Speedo Agreedo • East 9th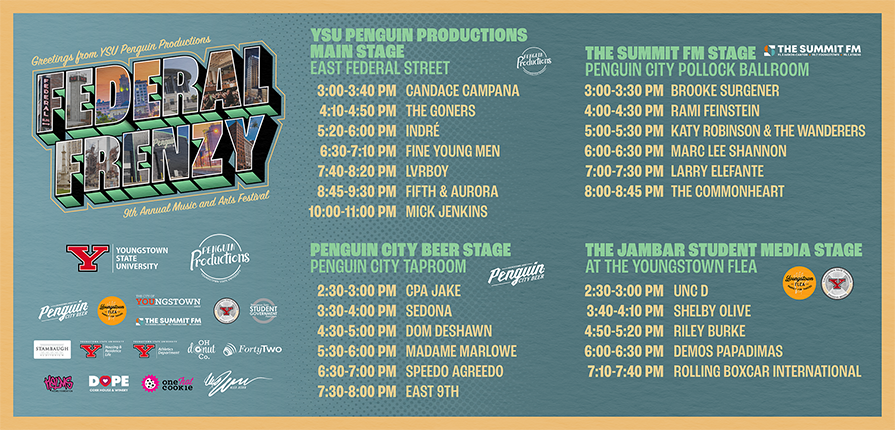 Volunteers

Would you like to get involved? Click to sign up to be a volunteer at FEDERAL FRENZY!
All day-of-event volunteers will receive a t-shirt with the Federal Frenzy promotional artwork! If you have any questions, please contact Penguin Productions Volunteer Coordinator Liliana Marinkovich at lrmarinkovich@student.ysu.edu
Vendor Market

The Youngstown Flea will be hosting the Federal Frenzy Vendor Market from 2 p.m. to 8 p.m. Shop around with local vendors including Sweet Memories Vintage Tees, 1054 Designs, Go Retro, Little Paws Apparel, OH Donut Co., La Petite Crocheterie, Glorious Soaps & More, Second Chance Silvers, Kenzie Kay Designs, Ethereal Creations, Sara Krisher Studio, Corinne Katlyn Designs, Bake Me Treats, Chocolate Outlaw, Linda's Bee Farm, Forestview Farmhouse, OurFarmSkincare, Whipped By Aubrey, Ashen Relics, Willow Fruit & Flower Farm, and Jason's Marvelous Popcorn.
Art

Enjoy art displays and live art performances by local artists including Alex Jesko, Kayla Hay, and Rachel Hritz. Be on the lookout for opportunities to create your own art, provided by Student Activities! Have you ever wanted to paint "The Rock"? We have a replica of the iconic glacial boulder that sits on the YSU Campus. Students have been painting this rock to advertise their organizations, events, and points of view since 1967. YOU can participate this YSU tradition at Federal Frenzy. Also, decorate your own tote bag with a variety of rubber stamps including "Youngstown" and YSU's "Block Y" and Pete the Penguin. We'll be on hand with all the supplies you need.
Interactive Activities

Student organizations and local businesses will host activities for all ages. From 2 p.m. to 8 p.m., attendees can shoot hoops and take pictures with Pete with YSU Athletics, spin the wheel or take a chance in the duck pond to win a prize with Hospitality Management Society, check out Theta Chi's interactive area (including games like can jam, spike ball, and a 50/50 raffle), have your tarot cards read or receive a fortune with Ely, get a henna tattoo with Manav and friends, make buttons and LGBTQ cups with YSUnity and PPGA, learn about Pete & Penny's Summer Camp while playing some fun games (including Connect 4, Giant Jenga, and cornhole) with Campus Rec, meet and greet with your favorite childhood characters from Castle on a Cloud Entertainment, decorate a pot and plant a seed with Bending Oak Permaculture Farm, make your own popsicle stick catapult with STEM Leadership Society, and join the Helms Foundation for some graffiti car art!
Food Trucks

Find a variety of food trucks around the event all day! You can expect to find Sweet Sips, One Hot Cookie, Wok on the Wild Side, Sauceeino, Big Green Thing, Magic Tree and Street Tacos.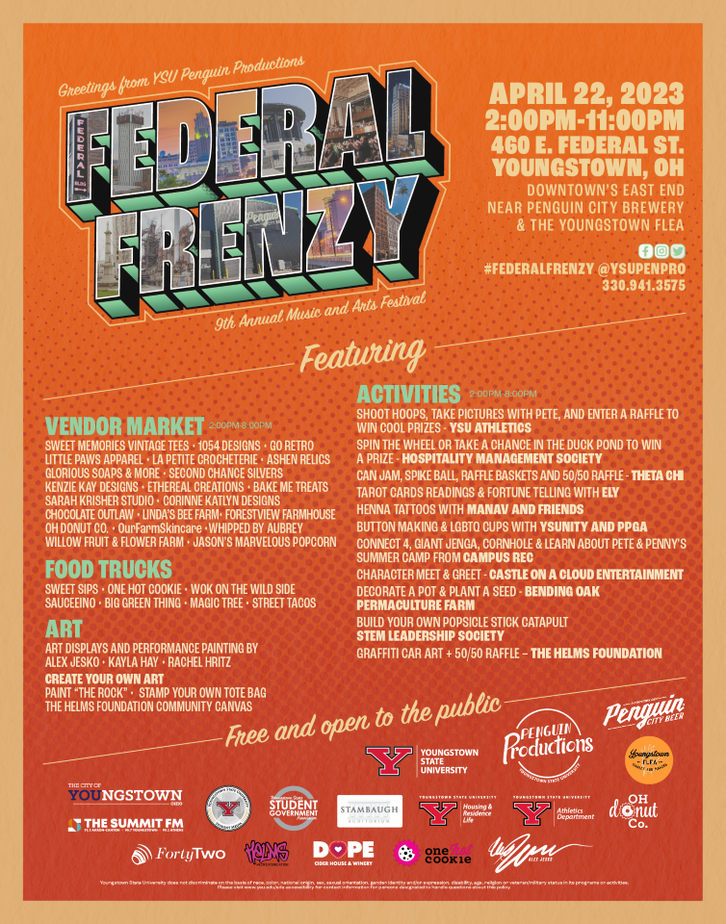 Beer Garden

Check out the Federal Frenzy Beer Garden, stretching from the Penguin City parking lot to the YSU Penguin Productions Main Stage! The selection of beer will be provided by Penguin City Brewery.

Parking and Shuttle

Attendees are encouraged to park in the Wick Avenue Parking Deck on campus. Students can park in the deck for free with their YSU Parking Permit. All attendees without a permit can park in the deck for a $5 (cash only) fee. Free shuttle services will be provided to and from the event site until 12 a.m.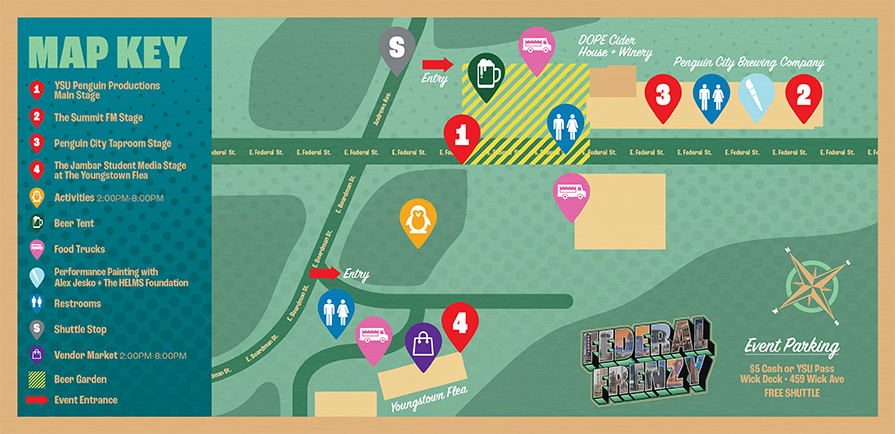 Listener's Choice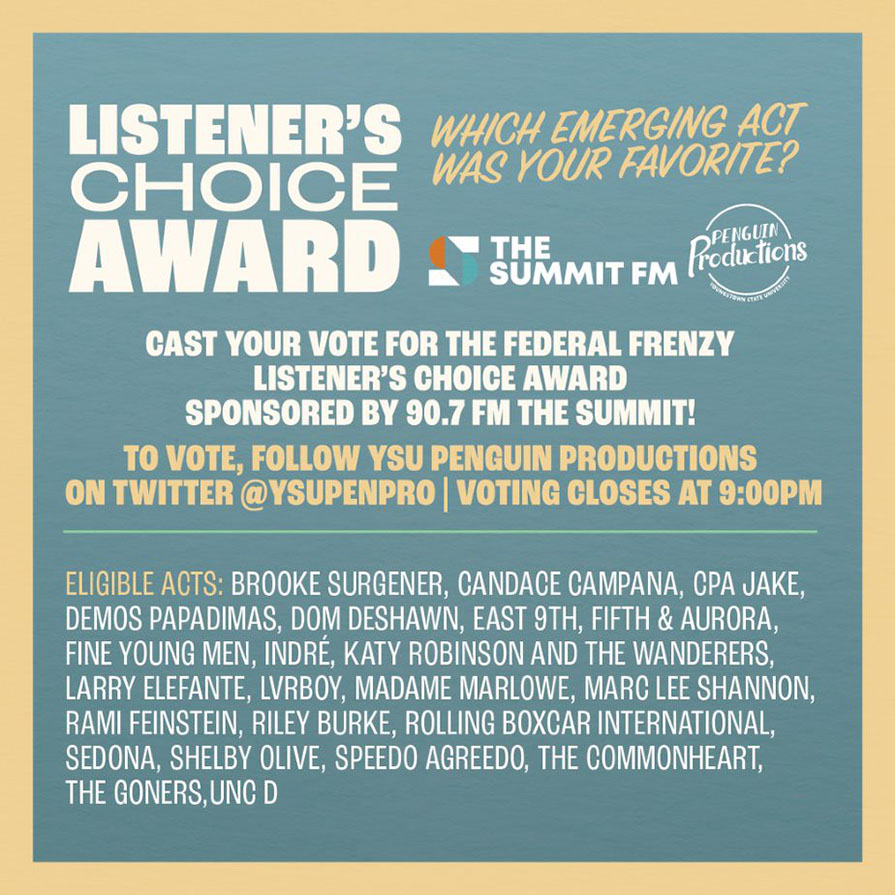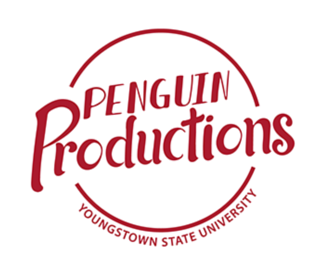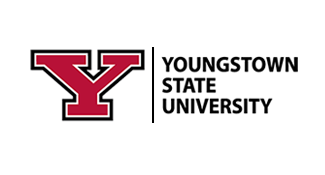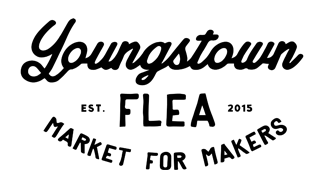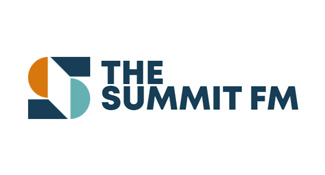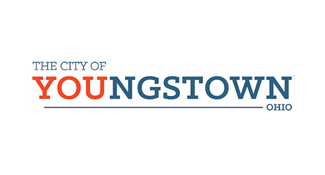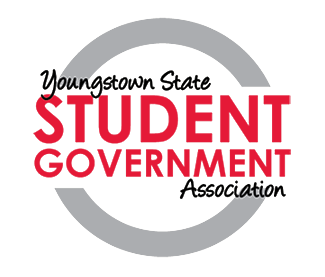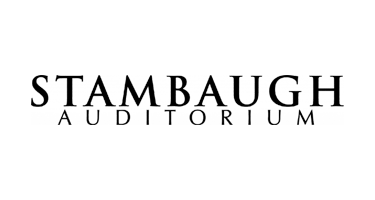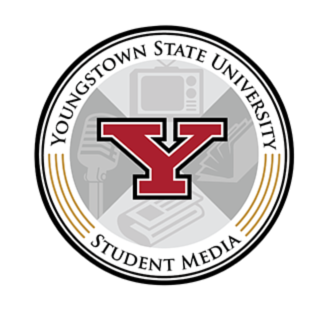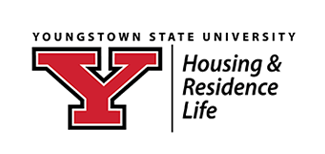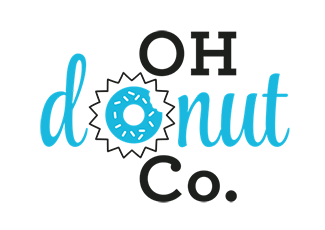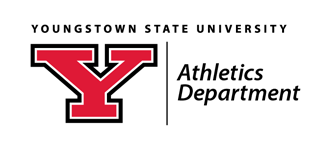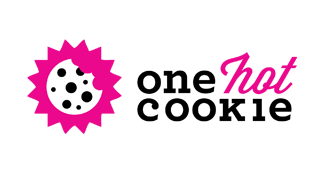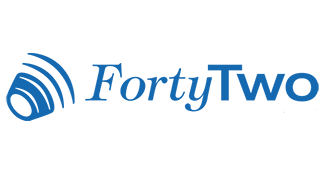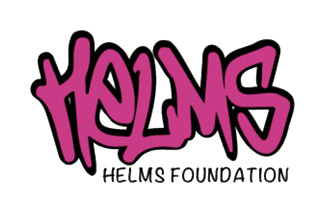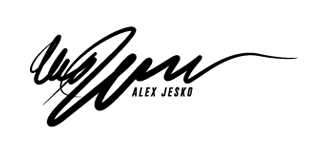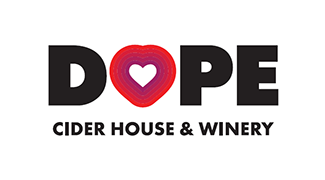 If you find anything on this webpage you need an accessible version of, please contact Student Activities.