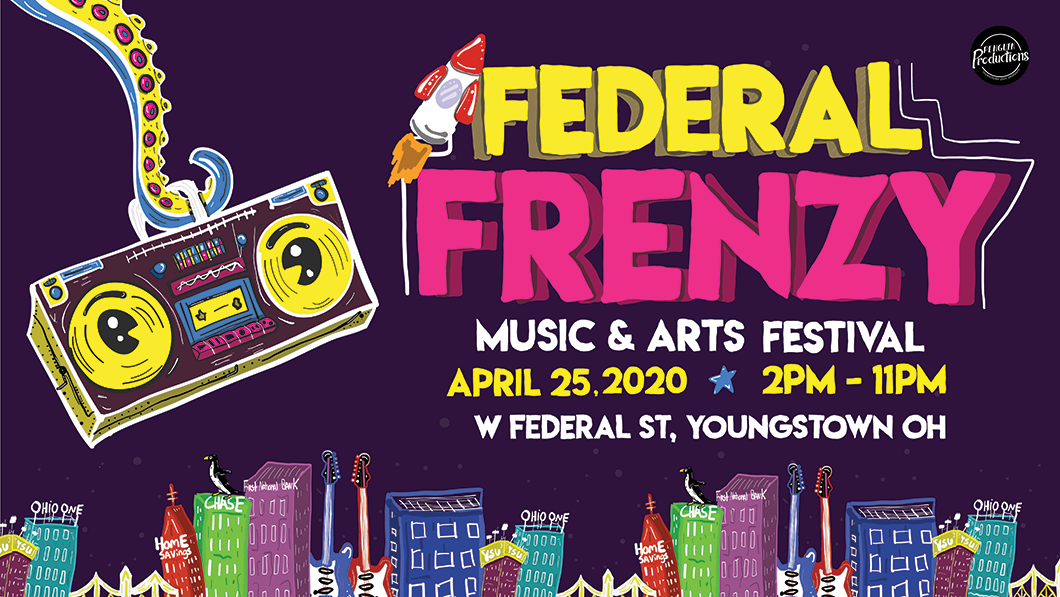 Youngstown State University Penguin Productions, the City of Youngstown,and The SummitFM are proud to announce FEDERAL FRENZY Music and Arts Festival on Saturday, April 25, 2020 from 2:00-11:00 PM. The event, located on West Federal Street and Phelps Street in downtown Youngstown, is free and open to the public. Tickets are not required for entrance. The PenPro Main Stage will feature both National and regional Acts. Regional artists will perform on the 330 Stage, sponsored by The Summit FM, a locally owned and operated member-supported public radio station. Additionally a vendor marketplace, live art, and family-friendly activities will take place outdoors. Indoors, a diverse selection of Youngstown State University-affiliated student, faculty, staff, and alumni bands round out the FEDERAL FRENZY lineup. These acts will compete for the Listener's Choice Award presented courtesy of The Summit FM. Downtown venues hosting music and activities include: The Federal, O'Donold's Irish Pub & Grill, Suzie's Dogs & Drafts, Lemon Grove, Whistle & Keg, and Rhine Haus. 
Coming Soon!
Parking Information:
Parking bans will be in effect beginning at 6:00PM on Thursday, April 23, 2020 on West Federal Street from Wick Avenue to Phelps Street and continue through 4:00AM on Sunday, April 26, 2020. Bans will also begin at 6:00PM on Friday, April 24, 2020 on West Federal Street from Phelps Street to South Hazel Street and on Phelps Street from Commerce Street to West Boardman Street and continue through Sunday, April 26, 2020.
For event parking, the Wick Parking Deck on Wick Avenue will serve as the primary parking area for Federal Frenzy. Those with a valid YSU parking permit can park free of charge while those without will need to pay $5.00. A shuttle will be available to transport attendees to and from the parking deck and the event. The  Shuttle pickup/drop-off points will be designated with a shuttle signs at the Wick Parking Deck and One Hot Cookie.
Thanks to our Sponsors & Partners!