Standardized and Department Challenge Exams: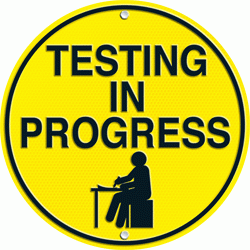 Any student who believes he or she is qualified to earn college credit based upon experience, previous training, or noncredit coursework may request credit by examination. The examination will be thorough and in keeping with the established goals and objectives of the course(s) and the overall academic program. Theoretical knowledge will be tested by faculty recommendation through common acceptable measures (i.e., paper and pencil, computerized, etc.) with the possibility of a skills component. Both written and skills testing may be required to insure "course rigor" is maintained and achieved.
Exams
Youngstown State University offers standardized exam and department challenge exam testing.
Standardized Exams refer to college-level examinations delivered by a third-party vendor that allow students to receive college credits in certain courses.
Two common types of standardized exams accepted at YSU are:
CLEP
College Level Examination Program or CLEP exams assess proficiency in general education through 33 tests. Most CLEP exams cover lower level and introductory knowledge in these primary areas: mathematics, writing, communications, and science.
DSST
Formally called DANTES Subject Standardized Tests (DSST) examinations test knowledge in both lower and upper-level college material through 38 tests in six subject areas.
In addition to Standardized Exams, YSU also offers Department Challenge Exams. Developed by YSU faculty members, these exams measure a student's mastery of the learning outcomes associated with a particular course.
Department Challenge Exams
Currently-enrolled students may demonstrate their ability and knowledge in a particular subject area by taking a special examination (through the appropriate academic department). The exams are based upon established learning outcomes. Students are provided with a recommended reading list and/or a study guide to prepare for the examination.
For more information on testing services, please contact the Testing Center.
Amy Gordon, Testing Center Manager
Phone: 330-941-1343
E-mail: ajgordon@ysu.edu