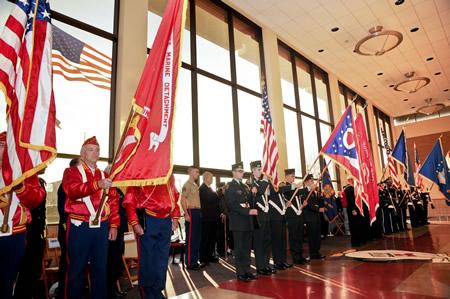 Military Credit
Youngstown State University recognizes the depth of learning that occurs when an individual serves in the armed forces.  The Air Force provides colleges and universities transcripts for their military personnel.  The other Armed Forces provide a Joint Service Transcript (JST) which also provides colleges and universities transcripts for military personnel.  The credit on a JST has been evaluated and assigned by the American Council on Education (ACE).  The credit found on the Air Force and JST is credit awarded for classroom and skills/laboratory learning.  This credit is placed on Youngstown State University's transcripts for students as transfer credit. 
To see how your military experience translates into coursework log into
Transferology for a preliminary evaluation.
Active military or university veterans are also encouraged to take exams such as CLEP and DSST where applicable.  They are also encouraged to develop a portfolio to address potential credit to evaluate learning that occurred outside of that recommended by ACE.  This is highly encouraged for active military or university veterans that have served overseas to evaluate if general education can be awarded for Social and Personal Awareness – International Perspective.  Students need to meet with the Office of Veterans Affairs or the PLA Coordinator for guidance on how to obtain credit for learning that has occurred outside the classroom environment.  Students need to be aware that ACE evaluated courses may not meet prerequisite requirements in some disciplines.  Students should meet with an academic advisor to assure that they have the required prerequisites for upper division courses. 
Military Crosswalks
Military Crosswalks provide an easy to understand conversion table which matches YSU courses with the various military courses or occupational specialties that have been evaluated by the State (MTAGS) or the university (departmental).  Evaluations of military occupations and courses are ongoing.  Refer to the military credits/crosswalks tab for additional information.
Please contact the Veteran's Resource Center for more information on how your military credits will transfer:
Major Rick Williams, Coordinator of the Veteran's Resource Center
Phone: 330-941-2503
E-Mail: veterans@ysu.edu