Military Transfer Assurance Guides and Crosswalks

Military Transfer Assurance Guides (MTAGs) and crosswalks provide an easy to understand conversion table which matches YSU courses with the various military courses or occupational specialties that have been evaluated by the State (MTAGS) or the university (departmental). Evaluations of military occupations and courses are ongoing, and the ones listed in the crosswalk have been officially approved, but more will be added as time goes on. If you do not see your particular military course or occupation listed in our crosswalk, see the Office of Veterans Affairs for assistance in downloading your Joint Service Transcript, so that you can work individually with the appropriate department for an assessment of your military training.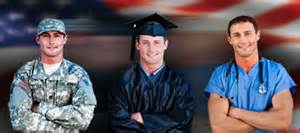 YSU has identified many military courses and occupations that are transferrable as YSU credits. You can see all current equivalencies by accessing the military credit table.The table also contains the updated MTAGs identified by the Ohio Department of Higher Education.
Certifications and Licensure Course Credit Crosswalk
YSU will evaluate and may award credit for recognized proficiencies that equate to specific courses offered at their institutions through certifications and licensure. A crosswalk of major certifications and licensure and course credit by exemption are listed. The certification listed meets or exceeds credit for the corresponding course(s) listed. Students may receive pre-approved credit for certifications and licensure, without completing a portfolio. However, official documentation of licensure/certification may be required. Contact the PLA Coordinator for more information.
C
D
Dental Hygiene - Expanded Functions for the Dental Auxiliary (EFDA)

| | | | |
| --- | --- | --- | --- |
| Program | YSU Course | Course Title | Semester Hours |
| | DHYG 4845 | Expanded Functions for the Dental Hygienist | 3 |
| | DHYG 4845L | Expanded Functions for the Dental Hygienist Lab | 1 |
| | DHYG 4855L | Expanded Functions Clinical | 2 |

Dental Hygiene License

Program
YSU Course
Course Title
Semester Hours
Dental Hygiene License

AHLT 37XEC in BSAS Allied Health

completion Program only

Allied Health Upper Division elective credits
10

Surgical Technology and Surgical Assisting Certification

*The national board of surgical technology and surgical assisting – official verification of certification with certification number

Credits can only be applied to the Allied Health on-line completion program

AHLT 37XEC
Allied Health Electives
10

Registered Vascular Technologist (RVT) Certification – ARDMS

*The RVT credential to certify medical professionals in the vascular ultrasound field- official verification of certification with certification number

Credits can only be applied to the Allied Health on-line completion program

AHLT 37XEC
Allied Health Electives
10

ARRT Certification and Registration-radiological technology certification

*Certification and registration requires satisfaction of certain professional standards in medical imaging, interventional procedures, or radiation therapy- official verification of certification with certification number

Credits can only be applied to the Allied Health on-line completion program

AHLT 37XEC
Allied Health Electives
10

Physical Therapist Assistant Education and Licensure

*You must graduate from a Commission on Accreditation in Physical Therapy Education-accredited physical therapist assistant education program and pass a state-administered national exam to obtain licensure or certification required in most states- official verification of certification with certification number.

Credits can only be applied to the Allied Health on-line completion program

AHLT 37XEC
Allied Health Electives
10

Certified occupational therapy assistant

*Pass the National Board of Occupational Therapists (NBCOT) COTA examination- official verification of certification with certification number

Credits can only be applied to the Allied Health on-line completion program

AHLT 37XEC
Allied Health Electives
10

Local Anesthesia Administration by Dental Hygienists

*Accredited program – Written regional or state exam Statute 15 hrs didactic; 14 hrs clinical Official verification of certification with certification number

Credits can only be applied to the Allied Health on-line completion program

AHLT 37XEC
Allied Health Electives
10

AWS Certified Cloud Practium and AWS Certified Developer

(Course offered through Division of Workforce and Innovation at YSU)

CSCI 48XEC
CSCI Elective Credit
3

AWS Certified Data Analytics

(Course offered through Division of Workforce and Innovation at YSU)

ACCT 6940
Data Analytics for Accounting
3

DD214 Military Deployment

| | | | |
| --- | --- | --- | --- |
| Program | YSU Course | Course Title | Semester Hours |
| | GEOG 5850 | International Area Study | 3 |
E
Educational Aid Permit (Ohio Dept. of Educ.)

| | | | |
| --- | --- | --- | --- |
| Program | YSU Course | Course Title | Semester Hours |
| | ECIS 2600 and 2629 | Early Childhood Intervention Specialist | 6 |

EMT Certificate with the state of Ohio and National Registration Certificate

| | | | |
| --- | --- | --- | --- |
| Program | YSU Course | Course Title | Semester Hours |
| | EMS 1500 | Emergency Medical Technician | 4 |
| | EMS 1500C | Emergency Medical Technician Clinical and Field Internship | 1 |
| | EMS 1500L | Emergency Medical Technician Laboratory | 2 |

Exercise Science

| | | | |
| --- | --- | --- | --- |
| Program | YSU Course | Course Title | Semester Hours |
| NSCA-CSPS | KSS 4810 | Exercise Testing and Prescription 3 | 5 |
| NSCA-CSCS | KSS 1560 | Resistance Training | 1 |
| | KSS 3760 | Strength Training and Conditioning | 3 |
| ACSM-GEI | KSS 1559 | Aerobic Conditioning Activities | 2 |
| | KSS 2625 | Pedagogical Aspects of Exercise Science | 3 |
| ACSM-EP | KSS 3700 | Exercise Testing and Prescription 1 | 4 |
| | KSS 3730 | Exercise Testing and Prescription 2 | 4 |
| ACSM-CEP | KSS 3700 | Exercise Testing and Prescription 1 | 4 |
| | KSS 3730 | Exercise Testing and Prescription 2 | 4 |
| | KSS 4810 | Exercise Testing and Prescription 3 | 4 |
| ACE-Group Fitness Instructor | KSS 1559 | Aerobic Conditioning Activities | 2 |
| | KSS 2625 | Pedagogical Aspects of Exercise Science | 3 |
| ACE-Personal Trainer | KSS 1560 | Resistance Training | 1 |
| | KSS 1559 | Aerobic Conditioning Activities | 2 |
| WellCoaches©​-Certified Well Coach | KSS 4875 | Exercise Counseling & Behavioral Strategies | 4 |
| | | | |
F
H
H&R Block Tax Preparation Certificate

| | | | |
| --- | --- | --- | --- |
| Program | YSU Course | Course Title | Semester Hours |
| H&R Block Tax Preparation Certificate | ACCT 15XEC | Introduction to Income Tax Preparation | 3 |

I

IBM Pre-Apprenticeship Certifications

Program
YSU Course
Course Title
Semester Hours
IBM Data Science
CSIS 26XEC
Data Science Pre-Apprentice Certificate
5
CSIS 2699
CSIS Internship
1
IBM Software Engineer
CSIS 26XEC

Software Engineer Technical Foundations

Pre-Apprentice

2
CSIS 2699
CSIS Internship
1
IBM IT Support Specialist Pre-Apprentice
CSIS 2699
IT Support Specialist Pre-Apprentice
2
CSIS 2699
CSIS Internship
1
Apprenticeship/Journeyman Training*
Maximum of thirty (30) semester hours may be granted to individuals who have completed four years of apprenticeship/journeyman training or life learning. Apprenticeships must have the approval of the Bureau of Apprenticeship and Training in the U.S. Department of Labor.
*Must provide Journeyman's Card to receive credit
30

Industrial Electrical Helper Certificate Program

| | | | |
| --- | --- | --- | --- |
| Program | YSU Course | Course Title | Semester Hours |
| NLMK Pennsylvania | EET 3710 | ELECTRICAL MACHINES | 3 |
| | EET 3710L | ELECTRICAL MACHINES LAB | 1 |
| | CCET 1504 | CAD TECHNOLOGY | 2 |

International Institute of Original Medicine*

Bachelor of Science in Original Medicine

*Must complete the Bachelor's Degree to receive the following YSU credits

| | | | |
| --- | --- | --- | --- |
| Program | YSU Course | Course Title | Semester Hours |
| | COUN 1587 | Introduction to Health and Wellness in Contemporary Society | 3 |
| | FNUT 26XEC | Food and Nutrition Electives | 9 |
| | FNUT 1543 | Personal Nutrition | 6 |
| | FNUT 1551 | Normal Nutrition | 9 |
| | FNUT 37XEC | Food and Nutrition Electives | 12 |
| | HAHS 1500 | Introduction to Bitonte College of Health and Human Services | 3 |
| | PLA 2600 | Prior Learning Assessment Elective Hours | 3 |
M
N
National Institute of Technology

| | | | |
| --- | --- | --- | --- |
| Program | YSU Course | Course Title | Semester Hours |
| Associate Degree in Medical Business & Clinical Specialist | AHLT 37XEC | Allied Health Credits | 15 |

New Castle School of Trades

Program
YSU Course
Course Title
Semester Hours
Associate Degree in Machine Technology
MET 2606 or CCET 1503 and 1504
Drafting & Plan Reading
4
MET 2630L
Manufacturing Techniques Laboratory
1
MET 4812
Numerical Control
3
ISEN 37XEC
Industrial and Systems Engineering
3
Advanced Cardiovascular Life Support (ACLS) Instructor
AHLT 4813
Advanced Cardiac and Pediatric Life Support
3

Cosmetology & Manicurist

Student must complete 900+ clock hours to receive the 30 credits

PLA 2600
Prior Learning Assessment
30
Phlebotomy Technician
MLT 15XEC
Phlebotomy Technician
1

Nurse Aid Training & Registry (PA Dept. of Health) Paralegal

| | | | |
| --- | --- | --- | --- |
| Program | YSU Course | Course Title | Semester Hours |
| | NURS 26XEC | Nursing Credits | 3 |

O

Ohio Chemical Dependency Professionals Board

| | | | |
| --- | --- | --- | --- |
| Program | YSU Course | Course Title | Semester Hours |
| | SCWK 3740 and 3742 | Chemical Dependency Counselor Assistant Certificate (CDCA Certificate) | 6 |

Ohio Department of Rehabilitation and Correction*

Training Certification

Must have completed on-board training and have a minimum of one year service with ODRC

| | | | |
| --- | --- | --- | --- |
| Program | YSU Course | Course Title | Semester Hours |
| | CRJS 37XEC | Criminal Justice Elective Credits | 14 |

Ohio Department of Youth Services

Pre-Services Training Certification

| | | | |
| --- | --- | --- | --- |
| Program | YSU Course | Course Title | Semester Hours |
| Pre-Services Training and Lifelong Learning | CRJS 37XEC | Criminal Justice Upper Division Elective Credit | 8 |

Ohio Peace Officer (OPOTA)

| | | | |
| --- | --- | --- | --- |
| Program | YSU Course | Course Title | Semester Hours |
| Ohio Peace Officer (OPOTA) | CRJS 3777 | Ohio Peace Officer Basic Training | 16 |

Ohio Practical Nursing License (LPN) *Nursing Major

*Student must provide the LPN license for Ohio.

| | | | |
| --- | --- | --- | --- |
| Programs | YSU Course | Course Title | Semester Hours |
| | NURS 2610 | Contemporary Nursing | 3 |
| | NURS 2645 | Professional Nursing 1 | 8 |

Ohio State Highway Patrol

*Students must supply training transcript for the Ohio State Highway Patrol

| | | | |
| --- | --- | --- | --- |
| Program | YSU Course | Course Title | Semester Hours |
| Criminal Justice | CRJS 3777 | Ohio Police Officer Basic Training | 16 |
| Criminal Justice | CRJS 2601 | Policing | 3 |
| Criminal Justice | CRJS 2602 | Criminal Courts | 3 |
P
Paralegal

| | | | |
| --- | --- | --- | --- |
| Program | YSU Course | Course Title | Semester Hours |
| Paralegal | CRJS 3720 | Legal Research | 3 |
| | CRJS 37XEC | General Criminal Justice Elective Credits | 9 |
| | CRJS 3718 | Family Law | 3 |
| | CRJS 37XEC | General Criminal Justice Elective Credits | 6 |

Pharmacy Technician Certification Board

Certified Pharmacy Technician (CPhT)

| | | | |
| --- | --- | --- | --- |
| Program | YSU Course | Course Title | Semester Hours |
| | AHLT 37XEC | Allied Health Elective Credits | 10 |

Professional Coding

Medical-American Academy of Professional Coders (AAPC)

| | | | |
| --- | --- | --- | --- |
| Program | YSU Course | Course Title | Semester Hours |
| | AHLT 37XEC | Allied Health Elective Credits | 3 |
R
Real Estate

*To be eligible for credits in the College of Business, a PLA evaluation would need completed upon evidence of license.

*MUST HAVE ALL 4 CERTIFICATIONS TO RECEIVE THE CREDITS

| | | | |
| --- | --- | --- | --- |
| Program | YSU Course | Course Title | Semester Hours |
| 1. Ohio Real Estate Principles and Practices | HMGT 15XEC | Hospitality Management Electives | 3 |
| 2. Ohio Real Estate Law | | | |
| 3. Ohio Real Estate Finance | | | |
| 4. Ohio Real Estate Appraisal | | | |
Y
Youngstown Police Department

*Must produce documents indicating current employment and training with YPD

| | | | |
| --- | --- | --- | --- |
| Program | YSU Course | Course Title | Semester Hours |
| | CRJS 3777 | OPOTA | 16 |
| | CRJS 2601 | Policing | 3 |
| | CRJS 2602 | Criminal Courts | 3 |

YSU Sanctioned Study Abroad

*Awarded to domestic students who study abroad for the duration of 15 weeks or more or for International students who complete 15 weeks or more of full-time study at YSU. Advisor/chair of department must petition for the SPA waiver.

| | | | |
| --- | --- | --- | --- |
| Program | YSU Course | Course Title | Semester Hours |
| | PLA 3700 | General Education Course - Social & Personal Awareness | 0 |
Apprenticeships must have the approval of the Bureau of Apprenticeship and Training in the U.S. Department of Labor. Below are examples:
Cyber Security Support Technician
Information Technology Support Specialist
IBM Data Scientist Apprentice