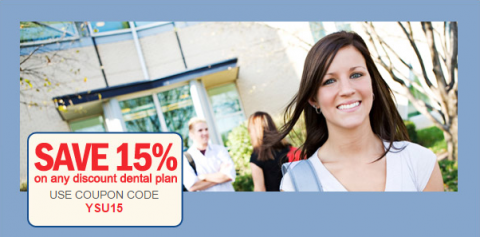 Our discount dental plans allow you to access dental care savings all year for just one annual membership price. Join today and bundle up with dental care savings.
www.dentalplans.com or call 1-800-219-7473 to take advantage of this limited-time 15% discount on any plan PLUS get 3 additional months FREE!
Advantages of DentalPlans.com
Save on Cleanings, Checkups, Fillings, X-Rays & More
Plans from Only $79.95 PER YEAR
30-day Refund Policy
Special promotions including but not limited to 3 additional months free, Delta SkyMiles® and Membership Rewards® points from American Express are not available to California residents.
The DENTALPLANS website is administered by DENTALPLANS INC., a licensed Florida Discount Medical Plan Organization, 8100 S.W. 10th Street Suite #2000, Plantation, FL 33324. Plans and Programs offered by DentalPlans are not health insurance policies. Plans and Programs offered by DentalPlans provide discounts at certain health care providers for medical services. Plans and Programs offered by DentalPlans do not make payments directly to the providers of medical services. The Plan or Program member is obligated to pay for all health care services but will receive a discount from those health care providers who have contracted with the Plan, Program or discount plan organization.
Massachusetts Residents: A discount dental plan is not insurance coverage and does not meet the minimal creditable coverage requirements under M.G.L. c. 111M and 956 CMR 5.00. The range of discounts for specified medical, pharmacy or ancillary services provided under the plan will vary depending upon the type of provider and the type of services received.
To unsubscribe from any further DentalPlans mailings, please unsubscribe.
8100 S.W. 10th Street Suite #2000, Plantation, FL 33324
Copyright © 2011 DentalPlans.com, Inc. All Rights Reserved.