The YSU Difference
We encourage the families of all current and prior military students to learn more about the Office of Veterans Affairs at YSU and see how our services and expertise could help your loved one succeed in college.
Youngstown State University was one of the first institutions to have an office strictly dedicated to assisting veterans on campus. We dedicate ourselves to providing a one-stop hub of information for military students - a place where they will be able to sit down with us and have an individualized meeting or chat at any time, whether they're prospective or current students.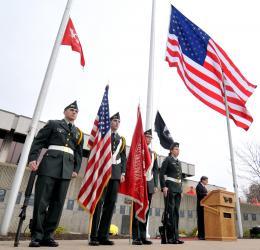 Learn more about Veterans Affairs at YSU. Get to know our office and staff, read through all of the benefits we offer to student veterans, and take a look at some of the latest news releases on our office.
And don't hesitate to contact us with any questions or concerns you have, or if you would like to schedule a visit and campus tour.
Get Involved: Community Events
Check back for updates on service events going on in Youngstown and surrounding areas.