The Office of Veterans Affairs at YSU annually recognizes an individual who has carried the spirit of his or her military service into their community by the contribution of their time and talents with the Cincinnatus Award. This award honors an individual who has served their nation and returned to civilian life to continue the spirit of service by working or volunteering in areas such as public education, veterans' organizations and other community endeavors and projects.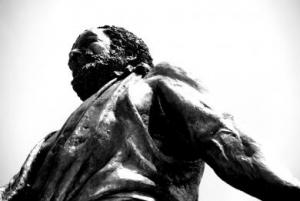 The story of Cincinnatus ties into the spirit of this award. Cincinnatus was, in truth and legend, the personification of duty, honor and noble service. In the 5th century BC, the ancient city of Rome came under attack twice with defeat certain at the hands of invaders. In these dire times, Rome called upon the old soldier, a simple farmer, to lead her in defense of the enemy approaching the city gates. The consequences for Cincinnatus meant the possible loss of his farm, the means to support his beloved family. He could have said no; he had already served the republic as a soldier and senator and was content to live out his life as a farmer. Knowing this well, he chose to serve. Twice he was called upon to leave; twice he left, and twice he saved Rome. For his service and victory, he was offered the title "Dictator of Rome" and all the glory that went with it. But twice he refused it so that he could return to his farm. There is a statue of Cincinnatus in the Ohio city that bears his name, one hand outstretched returning the Fasces, the symbol of absolute power, and his other hand on a plow, symbolizing his return to civilian life.
To nominate a veteran who has continued in the way of Cincinnatus, please submit your name, the nominee's name, contact information and a description of their eligibility to the Office of Veterans Affairs, C/O Rick Williams, 633 Wick Ave, Youngstown, OH, 44555-0002. You could also email the submission to veterans@ysu.edu (link sends e-mail). The deadline for the awarded year is the second Friday of September.