---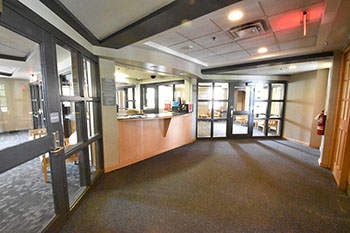 Front desk and lobby
  Staff at the main desk provide customer service functions, including accepting and signing for packages for residents, sorting mail, checking out kitchen equipment for use in the basement kitchen, checking in guests, and answering questions.
  Students can use the building computer lounge to print to the printer at the front desk. All students get a certain number of free prints per semester.
---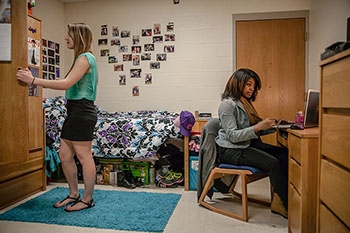 Typical two-person room
 Each room includes an extra-long twin bed with a mattress for each resident. Most beds are able to be lofted (raised to fit furniture underneath it).
 Other furniture typically includes a wardrobe and/or dresser (or combined unit), a desk or table, and desk chair. Trashcans are provided in all rooms.
 All furniture can be moved.
 Each room has its own individually controlled heating and air conditioning unit, wireless internet access, and wired internet connection.
 
---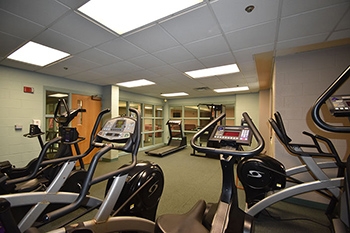 Fitness room
 Available to all residents 24 hours a day.
This enclosed room features an elliptical, nautilus equipment, Stairmaster, and treadmill.
---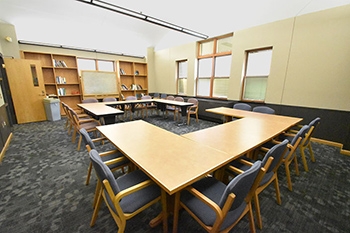 Academic seminar room
This room is equipped with a large conference table, a dry erase board, and an abundance of reference material.
This is a great space for longer group meetings for classes, clubs, and smaller events.
 
---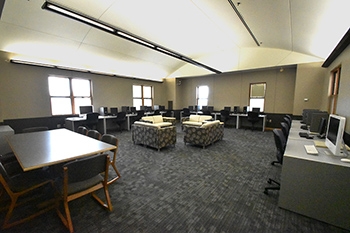 Computer Lab
The lab includes a number of computers, most of which are PCs. Two Macs are also available.
 
---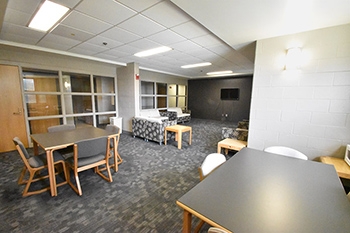 Study Lounge
In addition to other spaces available in the building, there are two dedicated study lounges located on the first floor of the building, which are open 24 hours a day.
---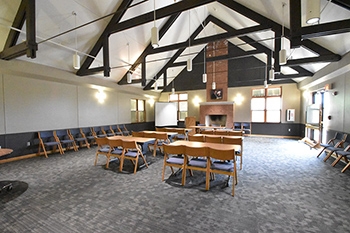 Multipurpose Room (MPR)
This is a spacious gathering room with a fireplace and a grand piano. Many building events and gatherings are held here because of its large capacity.
---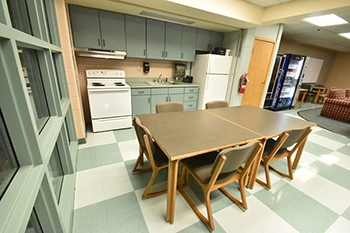 Recreation area, kitchen, and vending
 In the basement of the building, there is a large lounge space featuring a number of amenities.
 The kitchen area includes a stovetop, oven, refrigerator, microwave, sink, counter space, and a table with chairs. Students may check out a wide variety of cooking utensils from the front desk.
 There is also an open lounge area with a TV, pool table, and ping-pong table.
  Additionally, there are two vending machines providing a range of snack and drink options
 
---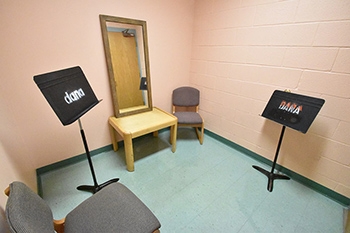 Music practice rooms
These two soundproof rooms are available to all residents. They both include chairs and music stands, and one includes a piano.
---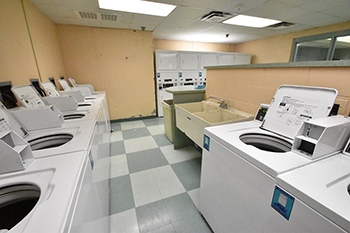 Laundry room
The laundry room includes a number of washers and dryers, as well as a utility sink and folding area. All machines are free to use by residents.