Take a tour of your future home away from home!

CAFARO VIDEO LYDEN VIDEO KILCAWLEY VIDEO
---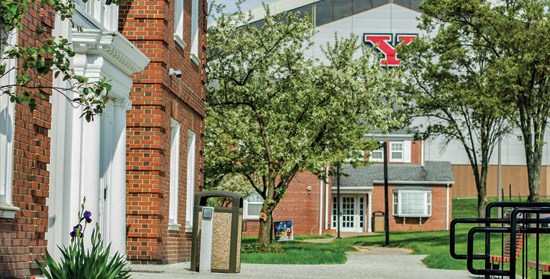 Our department oversees four campus residence halls, which include Cafaro, Lyden, Kilcawley, and Wick Houses. We also oversee Weller House, which is a small apartment building with sixteen efficiency apartments specifically targeted towards graduate students and students with families.
Cafaro House, along with our partner property, the University Courtyards, house students in our Honors College. Cafaro House has mostly suite-style housing. Students will enter into their suite off the main hallway. The suite is a common area (like a living space) that is carpeted and has some lounge furniture (chairs, couches, tables). Off of each suite are a number of bedrooms. Typically, first-year students are assigned to a 17-person suite (one RA room and 8 other two-person rooms). Returning students can select from 8-person suites and a few 6-person suites.
Lyden House is our largest residence hall and has a traditional double-loaded corridor layout. Off of the main hallways are two-person rooms on each side of the hallway. All four floors include rooms for each gender, and each wing has one restroom for each gender. Each floor includes a central lounge where the two wings meet, which has couches, chairs, and several sizes of tables for various purposes.
Kilcawley House is in the heart of campus and connects directly to Kilcawley Center, our campus student center and conference center. Offices are housed on the first floor, and students live on the upper six floors. Each floor has a traditional double-loaded corridor layout, with two-person rooms on each side of the hallway. There is only one bathroom per floor, so the floors are gendered with three housing men and three housing women. Each floor has a lounge with couches and chairs.
Cafaro, Lyden, and Kilcawley House all have a basement with a variety of common spaces, including some or all of the following. Each building page (below) will list more specific information about their amenities.
a public kitchen with a stovetop, oven, refrigerator, and sink
laundry rooms with washers and dryers that can be used for free by all residents
various study and social spaces
pool and/or ping pong tables
TVs
soundproof music practice rooms
public computer lounges
workout spaces
a shared microfridge unit, which is a minifridge, small freezer, and microwave, combined in one unit
access to the YSU network, either through ethernet ports or the wireless network
Wick House is the historic home of the famous Wick family. The home was donated to YSU in 1990, initially serving as a suite of campus offices. It was later converted into residence hall rooms. Because it is a historic home, each room in the building is uniquely shaped and sized so they range from single rooms to three-person rooms. Many have built-in bookcases or fireplaces (non-functioning); some have 10-foot ceilings, while others are under the eaves. This is also a very small building, housing just 32 students when at maximum capacity. Wick House is only open to selection by returning students. There is a lounge on the main floor with a fireplace, TV, and public computers and printing. There is also a small public kitchen with stovetop, oven, and sink.
More details about each building, as well as information about the University Courtyards (University-owned, but privately-operated apartments) and other local apartment complexes catering to YSU students can be found through the links below.