Welcome, YSU student veterans and current military! Bookmark this page to stay updated on news and events at the OVA, to look up Veteran-Friendly Classes each semester, and to research internships and jobs available to you. Also, don't forget to check out more helpful student veteran and YSU links on our Resources page!
What's New
---
Veterans-Friendly classes are now posted for Spring 2016.
Come get your saluting Pete Shirt (long sleeve or short)! Many colors and sizes still available.
Armed Forces Student Association
---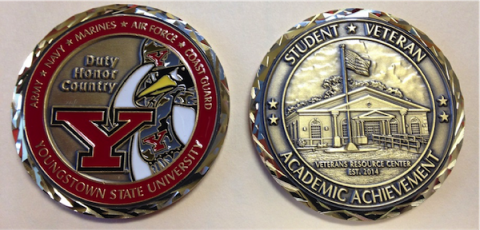 The Armed Forces Student Association (AFSA) at Youngstown State was founded on December 20, 2010, by fellow student veterans who shared a common idea to give back to the service men and women of the Ohio Valley.
The purpose of the AFSA is to gather members with the common interest of helping veterans locally in our community by giving back to those who have served our country and to show them that we are forever thankful for them. AFSA accomplishes this mission by providing service and donations through fundraisers and volunteer work for the local veteran organization.
Interested in joining? Email ysuafsa@gmail.com or find us on Facebook at Armed Forces Student Association!