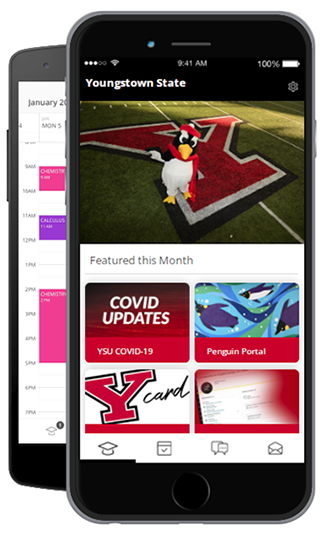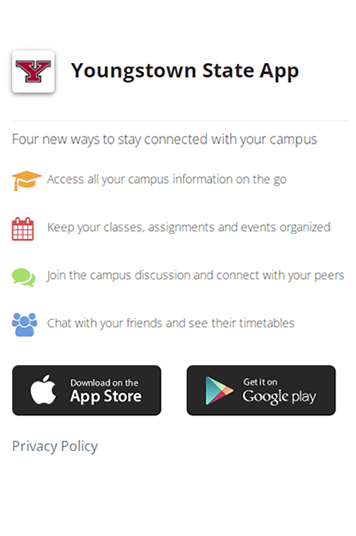 YSU APP Purpose
The YSU APP provides students and the current YSU Community with a place to stay informed of campus events, assist with the navigation of campus, build community among students and easy event and service check-in to assess campus engagement. The YSU APP offers students the following:
YSU single sign on capability with the app, using existing YSU email ID
Course listing viewable from the app with building locations and directions
Updated list of all campus events and programs
Easy event and service check in
List of resources and service on campus
Buy, Sell, Trade Wall
Quick access to contact YSU police
Updated deals offered exclusively to YSU students and community
The YSU APP is a supplemental tool to communicate to students and the YSU community. It is not intended to replace official means of communication between the student and the university but can be used for reminders, updates of deadlines and promotion of upcoming events.
Usage Policy
By signing up for the YSU APP, users agree to Privacy Policy and terms of services and agree to adhere to the code of conduct outlines in the YSU Student Code of Conduct. We value your privacy and protect your personal information.
YSU APP administrators monitor the post daily on the YSU APP. If an item has been flagged 5 times by the campus community, the item will be removed and reviewed.
Helpful Resources
Readyeducation.com – Website for YSU App Administrators
Need support or looking to add something (please note that someone will follow up with you regarding the submission of your request within 5 business days)
---
FAQ
Q: I need to add a team member to the YSU app, how do I do that?
A: Fill out the link below with the team member's name, department, email, and the service or organization that they will be tied to and that will take care of it!
Q: How do I get a new team member trained on using the app?
A: Check out the "Course Calendar" or Course listing on the IT Training Website to see when the next time a new user training will be held!
Q: How does something become a tile?
A: A tile needs to be a resource that services the entire campus population for an extended period of time. The tile will be reviewed at the next app meeting by the team members in the meeting to ensure it fits the needs of the YSU Community. Single one-time events and single services will most likely not be considered for their own tile.
Q: How do I create an event? How do I track that event with a QR code?
A: You must be an app team member already to create an event. If you are, follow the directions at the Ready Education | Create an Event with Assessment webpage.
Q: I have an idea for the app that seems a little complex, who can I talk to see if my idea is feasible?
A: Please fill out the YSU App support form and R.J. Markowitz, along with the Ready Education Team, will reach out to you to setup a virtual meeting to put a plan in place to help you out!

Q: I saw something on the Student Feed that was concerning, what should I do?
A: Please know that content on student feed on the app falls under the Free Speech Policy at YSU. If you are concerned that an individual might be "negatively affect[ing] the campus learning environment or potentially harm[ing] the health, welfare and/or safety of members of the University community or the individual(s) exhibiting such behaviors" please fill out a Penguin of Concern Form. In the case of an active or immediate risk of violence to self or others, the YSU Police Department should be contacted IMMEDIATELY at 330-941-3527 (or 911 from a campus phone).
Q: I would like to have something posted on the YSU APP?
A: If you need something posted in an official manner to the YSU Student Feed and do not have that capability yourself, please contact R.J. Markowitz at ramarkowitz@ysu.edu with the message you would like posted and a date / time you would like it posted. Please note, push notifications are reserved for important, pressing campus news and will only be used in that manner. Push notifications will not be used to promote events, programs, or services.
---
Questions or Concerns: Contact R.J. Markowitz at ramarkowitz@ysu.edu