The Family Educational Rights and Privacy Act of 1974, or FERPA, is a federal law that protects the access and disclosure of your educational records maintained by the University. Educational Information Release via Proxy is an online form students can submit to authorize a parent or a legal guardian with a valid e-mail address to see and discuss academic grades and records, billing records, financial aid records, or other student information such as academic advising records, housing information and actions, student advocacy and support, and student conduct. Each Proxy Profile must have a unique e-mail address; there cannot be multiple proxy users attached to one e-mail address. Listed below are instructions if you wish to release any of this information to a parent/other individual.
Step 1: Find the Form
Log into the Penguin Portal. Under the "e-Services for Students" section, click "Access My Student Information."

Alternatively, students can log into the Penguin Portal and click on "Education Information Release via Proxy" under the Student Records heading in the e-Services for Students section.

Click on the "Student" tab, and the link for the Education Information Release via Proxy will be listed at the bottom.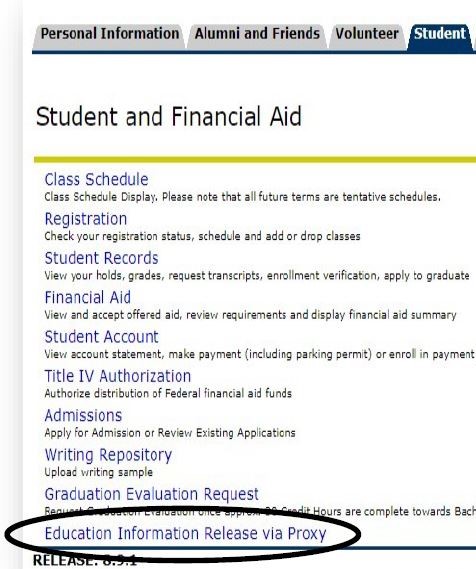 ---
Step 2: Add a Person
Click "Add a Proxy" to open the form and add an individual to your account by entering their first name, last name and email address.
Click the "Add Proxy" button to save your entry.
The form will close and a new expandable link will appear on the screen with your proxy's name.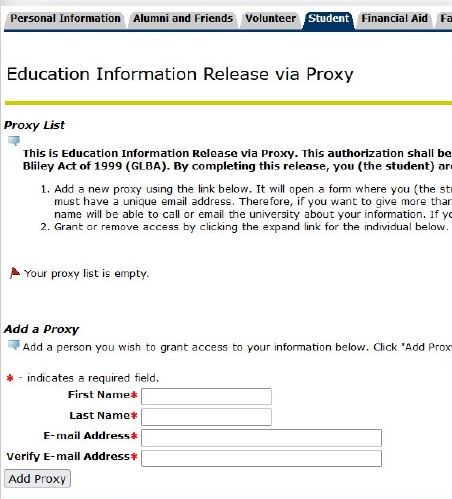 ---
Step 3: Establish Relationship and Access
Click the "Expand" link for the person you added as this will open the Proxy Profile page.
Under the profile tab, select one of the relationship options for the user; access will not work without a relationship selection.
Next, click the "Authorization" tab and select each box for the area you would like to grant access; your selections will automatically save.

Check each area to release all information or check specific functions you would like to grant access.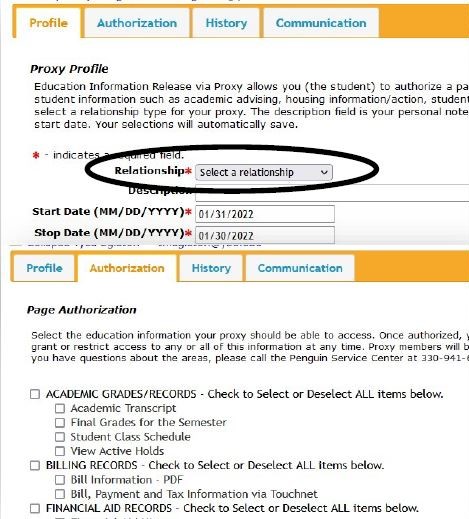 ---
Once you have set up the proxy user access, they will be sent a verification link and a temporary ACTION PIN. They should click on the link and fill in their email address and PIN to establish a new PIN to use as a password. They should bookmark our website, https://ysu.edu/registrars-office/ferpa and click Education Information Release via Proxy Access Login to access your information.