YSU Summer Festival of the Arts headlines weekend of events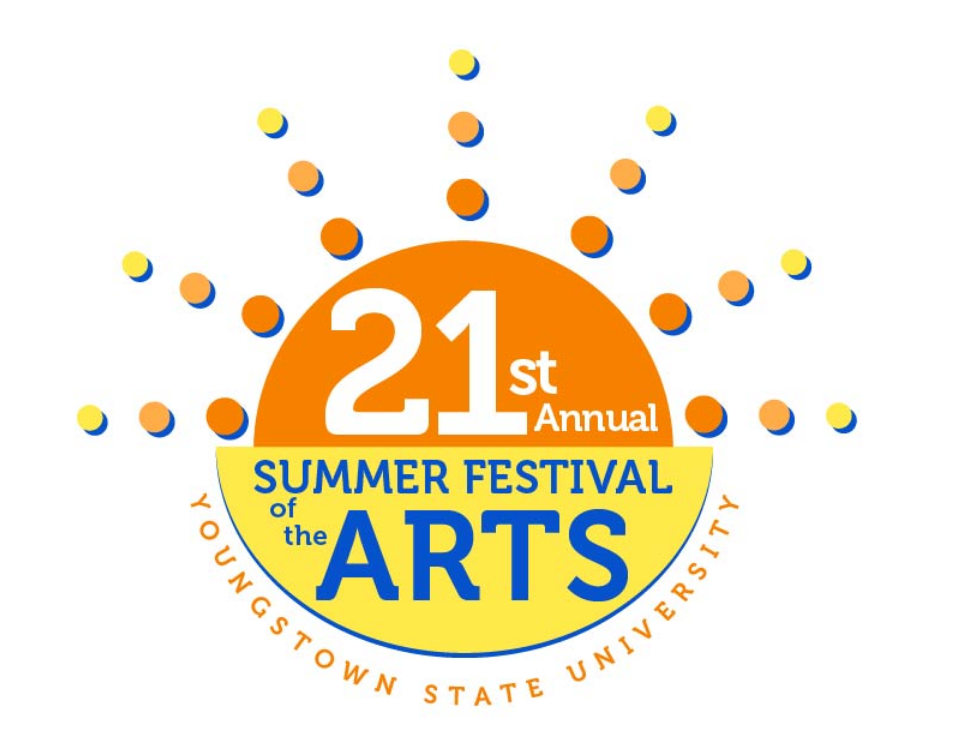 A weekend of arts, culture and music, highlighted by the 21st annual Youngstown State University Festival of the Arts, is planned for July 11 to 14 on campus and at numerous other locations around downtown Youngstown.  
Events include:
YSU Summer Festival of the Arts, Saturday and Sunday, July 13 and 14, on campus. The 21st annual Festival is 10 a.m. to 6 p.m. Saturday and 11 a.m. to 5 p.m. Sunday. The heart of the Festival is the artists' marketplace that showcases the work of more 85 local, regional and national artists selling original, hand-crafted pieces such as jewelry, paintings, sketches, sculptures, glass, wood and textiles. Also featured is the popular hands on art tent where children create various pieces of art under the guidance of a professional teacher; dozens of music, theater and dance performances, including the Pan Tropix Steel Drums, The Labra Brothers, Radio Lark, Beck-Ward Project, County Mayo, JD Eicher, Del Sinchak Band and Moustache Yourself; five daily shows in the Ward Beecher Planetarium celebrating the 50th anniversary of the Apollo 11 moon landing; the Clarence R. Smith Mineral Museum; the Youngstown Historical Center of Industry and Labor; and the Festival of Nations, an ethnic festival welcoming ethnic clubs and churches that provide ethnic memorabilia, performances and food.
St. Nicholas Greek Orthodox Church Summerfest, Thursday through Sunday, July 11 to 14, 220 N. Walnut St., featuring live music and dancing, Greek food and pastries, and a display of cultural memorabilia. Hours are: Thursday, July 11, 11 a.m. to 7 p.m.; Friday and Saturday, July 12 and 13, 11 a.m. to 10 p.m.; and Sunday, July 14, noon to 6 p.m. Take out lunch service is available Thursday and Friday, 11 a.m. to 2 p.m.
Youngstown Wine and Jazz, featuring Grammy Award-winning guitarist Norman Brown, Saturday, July 13, Youngstown Foundation Amphitheatre, downtown Youngstown. Doors open at 6 p.m. Several wineries and breweries have committed to the event, and will be adjacent to the stage. Tickets are $10 each ($25 for VIP seating) and available at the Covelli Centre Box Office, at www.ticketmaster.com or at the gate.

The 4th annual 2Deep Entertainment Gospel Festival starring James Fortune, Sunday, July 14, at the Youngstown Foundation Amphitheatre. Doors open at 5 p.m. with show beginning at 6 p.m.

Tickets start at $10 and are on sale at the Southwoods Health Box Office located in the Covelli Centre or online at ticketmaster.com.
Other special events over the weekend include:
Saturday, July 13, 1 p.m., Pipe Organ Crawl featuring short organ performances and a historical talk in Bliss Recital Hall, St. Columba Cathedral and St. John's Episcopal Church.
Saturday, July 13, 1 p.m., free reception for Marlene Aron: An Artist's Path, an exhibition celebrating the life and work of the late Marlene Aron, Youngstown native and YSU alumna, in Bliss Hall's Judith Rae Solomon Gallery.

Here Comes the Mass Mob

Sunday, July 14, 4 p.m., Youngstown MASS Mob at St. Columba Cathedral. Similar to a Cash Mob, where one business is selected to be supported through shopping and participation, a Mass Mob focuses on a parish, its architecture, its community, its history and its culture.
Sunday, July 14, 11 a.m., Ladies Day Out, hosted by YSU's Office of Alumni Engagement, at the Williamson College of Business Administration, featuring a speaker, brunch and tours. Advance reservations required by emailing cacala@ysu.edu.  
For more information on the weekend's activities, visit www.ysu.edu/sfa, www.youngstownlive.com, or email Lori Factor, Festival coordinator, at lafactor@ysu.edu.