Alum, former prof receive YSU Cincinnatus Award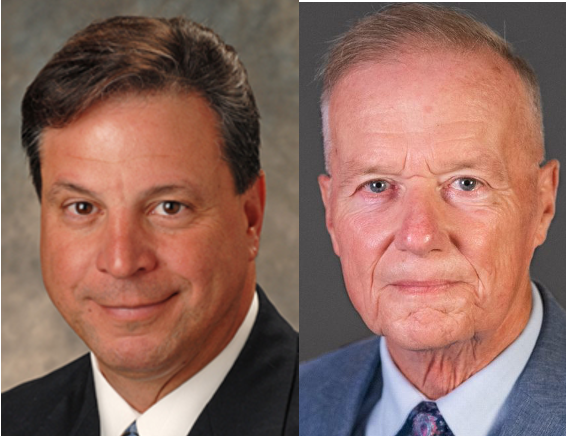 Two retired members of the U.S. Army, with a combined 52 years of military service, receive the Cincinnatus Award at the annual Youngstown State University Veterans and ROTC Alumni Reunion Dinner 5:30 p.m. Saturday, Sept. 18.
The dinner at the Avalon Golf and Country Club in Warren is part of the YSU Veteran and ROTC Alumni Weekend Sept. 18 and 19, sponsored by the YSU Office of Veterans Affairs. The weekend also includes a golf outing on Sunday, Sept. 19, at the country club, benefiting the YSU Department of Military Science.
Keynote speaker at the dinner is Major General Johnny K. Davis, Commanding General, U.S. Army Cadet Command at Fort Knox, KY
Receiving the Cincinnatus Award are Richard Tropea and Charles Coleman. The award honors individuals who have served the nation and returned to civilian life to continue the spirit of service by working or volunteering in areas such as public education, veterans' organizations and other community endeavors and projects. The award is named after a legendary 5th century Roman patrician, statesman and military leader.
Also at the dinner, Major Jared Elliss, chair of YSU Military Science, will be promoted to Lieutenant Colonel, and Ronald Klingle, chair and chief executive of Avalon Holdings Corp., will receive the Bitonte College of Health and Human Services' Distinguished Alum Award for Military Science.

Tropea's 22-year military career began when he applied for YSU's two-year ROTC program, attending Basic and Advanced Camp in addition to Airborne School. Upon completion, Tropea qualified as a Distinguished Military Graduate nationally and was commissioned as a 2nd Lieutenant and Military Intelligence Officer for the Army in 1979. His military career spanned over two decades (8 years active and 14 reserve), which included tours in Arizona, Japan, England, Germany, Washington DC and Michigan, with accommodations for service during Operations Deliberate Force in Bosnia, Desert Shield and Storm in Iraq and Enduring Freedom in Afghanistan. He spent approximately 11 years of his intelligence career in or supporting CIA operations, retiring from the military in 2002. With his education background from YSU and an MBA from the University of Detroit Mercy, including post graduate studies in management at the University of Southern California, Tropea began a civilian career as a financial planner and senior vice president of Tropea Capital Management of Raymond James in Birmingham, Mich. He is chair of the Birmingham-Bloomfield Symphony Orchestra, founder and director of the Birmingham Jaguar Softball Club and co-director of Proud Dads of Birmingham Covington School. Tropea and his wife, Colleen, started the LTC Rich and Colleen Tropea Scholarship program for worthy YSU ROTC cadets.
Coleman graduated from Chaney High School in Youngstown in 1968 and earned a commission as a second lieutenant from U.S. Military Academy in 1972, where he graduated with a degree in Engineering. A lifelong learner, Coleman went on to earn multiple, advanced degrees including an MBA from Baldwin-Wallace College, and he was a senior fellow in International Security Studies at the Fletcher School of Law & Diplomacy at Tufts University. He also taught Military Science as an assistant professor at YSU. After 30 years of combined active duty and reserve service, Coleman retired from the Army in 2002 as a colonel. He also retired from Linde Hydraulics Corp., where he served as the process control manager. He previously held several senior managerial positions in various manufacturing companies, including contract manager for Babcock & Wilcox Co. and director of business processes for Bliss-Salem Company. Outside of his accomplishments in the public and private sectors, Coleman remains committed to serving his community. He has served in numerous roles in Canfield Township, including as a member of Canfield's Zoning Commission, vice chair of the Canfield COVID Defense Task Force and current vice chair of the Board of Advanced Methods in Innovation, a non-profit devoted to providing additive manufacturing education and experience to students in grades K-12. Coleman also continues to support fellow veterans by serving as Vice Commander of American Legion Post 177.