Sign up for PenguinAlert – today!
YSU's emergency alert system is called PenguinAlert.
To be sure that you receive emergency text alerts, verify your cell phone.
PenguinAlert is open only to students and employees with an official YSU email address.
To verify your contact information:
Click on the PenguinAlert Notification System link on the right.
Fill in your YSU username and password, click "Login."
This will take you to the registration page. Under the "My Account" tab, add or update your cell phone number as needed.
You may also add two additional mobile phone numbers and two additional email addresses.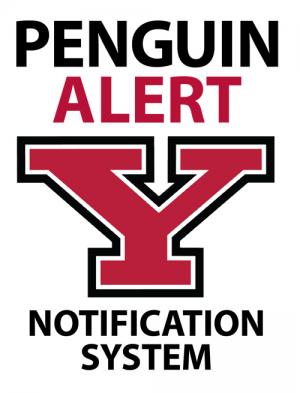 It is imperative that you verify OR add your cell phone number, if needed, so you can receive these alert messages.
Please verify your cell phone today.
Penguin Alert is the emergency notification system for Youngstown State University. It is used by YSU as a way to instantly reach mobile devices when an urgent situation needs to be communicated. In the event of an emergency, a message will be sent to the mobile number and/or email registered with the system. This service is provided by YSU at no cost; however, message and data rates may apply. YSU emails and cell phone numbers that are on file with the University are automatically loaded into the system.