(1984-1992)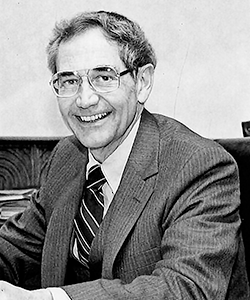 Neil Humphrey was born in 1929 in Idaho. He graduated from Idaho State College in 1950 and received a masters degree from the University of Denver in 1951. Humphrey earned his doctorate of education from Brigham Young University in 1974. Before coming to YSU, he was President of the University of Alaska Fairbanks and Chancellor of the University of Nevada.
Humphrey's first position at YSU was in 1978 as the Vice President of Financial Affairs. He was the acting President during President John Coffelt's ten month medical leave of absence in 1983 to 1984. During his own presidential tenure, Humphrey took a leave of absence for two months following triple bypass surgery in the summer of 1991.
In addition to his activities on campus, President Humphrey enjoyed being involved in the Youngstown community. He was involved with St. Elizabeth's Hospital, the Salvation Army, the YMCA and the Youngstown Playhouse.
Humphrey and his wife Mary have two daughters and reside in Reno, Nevada.
For more information about President Humphrey, please contact the University Archives.