(1992-2000)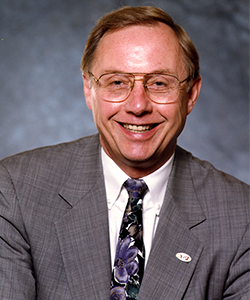 Leslie Cochran was born in 1939 in Indiana. He attended Western Michigan University on a half academic, half athletic (baseball) scholarship and graduated in 1961. He received his masters degree from Western Michigan in 1962. Cochran taught drafting in the Detroit Public Schools while he earned his doctorate in education from Wayne State University.
After graduation in 1968, he started his academic career as a professor of industrial technology at Central Michigan University. He published many articles, four books, and brought in two million dollars in grant projects. He advanced into administration before leaving to become provost of Southeast Missouri State University in 1980. He served as provost there for 12 years, including one year as acting president.
Cochran became President of Youngstown State University on July 1, 1992. As President, Cochran made plans to increase the University's role in the community and emphasized fund raising activities. He created a comprehensive master plan for the University called Campus 2000. He was a visible presence on campus, and he and his wife, Lin, were often seen at University events wearing red hats.
In 2000, the Cochrans moved to North Carolina.
For more information about President Cochran, please contact the University Archives.