(1973-1984)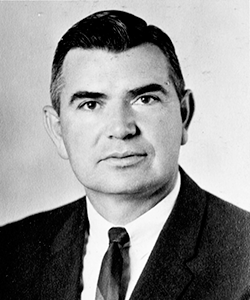 John Coffelt was born in Missouri in 1924 and graduated from the University of Denver in 1948. He worked for the State Teachers College in North Dakota until he earned his masters degree in 1951. While working on his doctorate degree, Coffelt held positions in several Colorado state education offices. He received his doctorate of education from the University of Colorado in 1962.
From Colorado he moved to Oklahoma to work as the state's Vice Chancellor for research and planning. President Pugsley recommended him to be YSU's Vice President of Academic Affairs in 1968. He became President of the University in 1973. He was modest about the title, often introducing himself by simply saying, "Hi. I'm John Coffelt. I work at the University."
When he took a leave of absence in September 1983 to treat his acute asthma, Executive Vice President Neil Humphrey was appointed Acting President. When Coffelt's leave extended into its seventh month, the Board of Trustees appointed Humphrey to be Coffelt's successor.
Coffelt and his wife, Anna Marie, had three daughters and one son. When he died in 1988, the University held a memorial service.
For more information about President Coffelt, please contact the University Archives.