(2000-2010)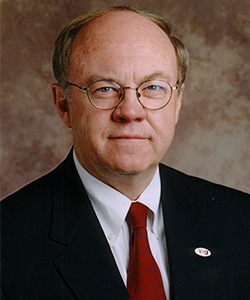 David Sweet was born in 1939. He received his bachelor of arts degree from the University of Rochester in 1961 and his master of arts degree from the University of North Carolina, Chapel Hill in 1963. While earning his doctorate at Ohio State University, Sweet worked as the director of the Regional Economics Division at the Battelle Institute. After earning his Ph.D. in 1970, he became the director of the Department of Economic and Community Development for the state of Ohio. From there he was appointed to be the commissioner of the Public Utilities Commission of Ohio (PUCO).
In 1978 he left PUCO to begin his academic career as the Dean of Levin College of Urban Affairs at Cleveland State University. During his 22 year tenure as Dean, Sweet wrote several books on urban planning and revitalization.
When he came to Youngstown State University in 2000 with this background, Sweet was able to build on Cochran's efforts to create more partnerships between the university and the community.
Sweet met his wife Patricia while they were both studying at the University of North Carolina, Chapel Hill. They were married in 1966 and have four children.
For more information about President Sweet, please contact the University Archives.