(2010-2013)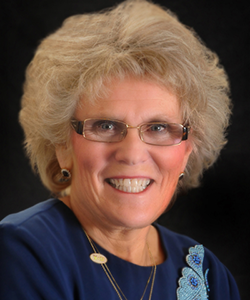 Cynthia Anderson was raised in Vienna, Ohio. She received her bachelors degree in business education from Youngstown State University in 1973. She earned a masters degree in business education from Ohio State University in 1976 while teaching at Westerville South High School.
Anderson joined the YSU faculty in 1979 as an instructor of business education and technology. She completed her Ed.D. in education administration for higher education and student personnel services in 1990 at the University of Akron.
In 1995, Anderson was named the Vice President for Student Affairs, where she was responsible for enrollment management, student services, student life, and campus security. During her 15 year tenure, she began the first student orientation program, the Office of Veterans' Affairs, the Center for Student Progress, the Office of Campus Recreation and Intramural Sports, the Emerging Leaders Program, and the YSU Alert emergency notification system.
Anderson has continued teaching and was promoted to professor of marketing and public relations in 2000. Her scholarly activities include dozens of journal articles, conference proceedings, and presentations.
Anderson is also active in the Youngstown community. She serves on the board of directors of the Neil Kennedy Recovery Clinic, the Associated Neighborhood Centers, Leadership Mahoning Valley, the Rich Center for Autism, and the United Methodist Community Center. In 2004, Anderson has won the ATHENA award for professional excellence, community service, and career support for other women.
In 2000, the YSU Board of Trustees awarded her the University Leadership Merit Award and Student Government created the Cynthia E. Anderson Lifetime Leadership and Achievement Award.
On July 1, 2010, Anderson became the first woman, the first Youngstown-area native, and the first YSU graduate to serve as president of the University.
For more information about President Anderson, please contact the University Archives.