(1966-1973)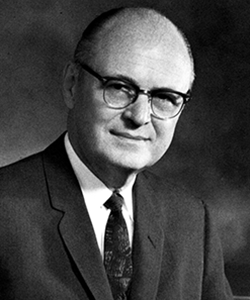 Albert LeRoy Pugsley was born in 1909 in Woodbine, Iowa. He earned his Bachelor of Arts degree in civil engineering in 1930 from South Dakota University, and his Masters of Architecture from Harvard in 1934. A registered engineer and a licensed professional architect, Pugsley held honorary doctoral degrees from South Dakota State University and Kansas Wesleyan University.
Pugsley is regarded as the architect of the modern Youngstown State University. Inaugurated in a gala ceremony in 1966, President Pugsley guided the institution into the state system of higher education and accelerated the physical and academic expansion of the campus. He especially placed great emphasis on undergraduate education.
Like other university presidents during the 1960's and early 1970's, Albert Pugsley had to deal with the social impact of the Vietnam War on the campus community, the outrage over the shootings at nearby Kent State University, and a growing distrust in authority stemming from both the war and Nixon-era politics.
Pugsley retired from Youngstown State in 1973 and moved to Florida, where he passed away in 1977.
For more information about President Pugsley, please contact the University Archives.