 Dr. Peter Norris
Professor
Chemical & Biological Sciences
Ward Beecher Hall 6014
phone: (330) 941-1553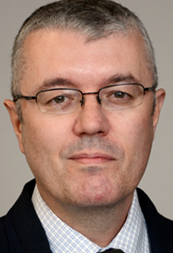 ---
Education
B.Sc. Chemistry (Honours), Salford University (England), 1986
Ph.D. Organic Chemistry, The Ohio State University (Harold Shechter), 1992
Post. Doc., American University, Washington, DC (Derek Horton), 1993-96
---
Example Publications:
Six-Membered Rings With One Other Element, Peter Norris, in Comprehensive Heterocyclic Chemistry IV, 2021, p. 725-743. Elsevier.
1,2-Bis(diphenylphosphano) ethane (DPPE)-mediated Synthesis of Glycosyl Amides, D.P. Temelkoff, A. Gabba, and P. Norris in Carbohydrate Chemistry: Proven Synthetic Methods, Volume 4, 2017, CRCPress.
1,3,4-Tri-O-acetyl–2-N-(trifluoroacetyl)-beta-L-fucose. D. C. McCutcheon, P. Norris and M. Zeller, Acta. Cryst. E. 2014, E70, o134. (Structure Communication).
Azidonitration of di-O-acetyl-L-fucal; X-ray crystal structures of intermediate azidodeoxysugars and of the bacterial aminosugar N-acetyl-L-fucosamine, A.-B. Alhassan, D. C. McCutcheon, M. Zeller, and P. Norris, J. Carbohydr. Chem., 2012, 31, 371-383.
Synthesis of a D-glucopyranosyl azide: spectroscopic evidence for stereochemical inversion in the SN2 reaction, O. G. Adesoye, I. N. Mills, J. A. Jackson, and P. Norris, J. Chem. Ed., 2012, 89, 943-945.
Reactions of several monosaccharide-derived alcohols with p-acetamidobenzenesulfonyl azide and DBU, I. A. Sacui and P. Norris, Tetrahedron Lett., 2011, 52, 2670- 2672.
Rhodium(II)-catalyzed decomposition of 3-O-(2-diazo-2-phenylacetyl)-1,2;5,6-di-Oisopropylidene-alpha-D-allofuranose; diastereoselective ether formation, I. A. Sacui, M. Zeller, and P. Norris, Carbohydr. Res., 2008, 343, 1819-1823.