YSU Workforce and the Education Service Center of Eastern Ohio continue to grow in-demand industry skill training for high school students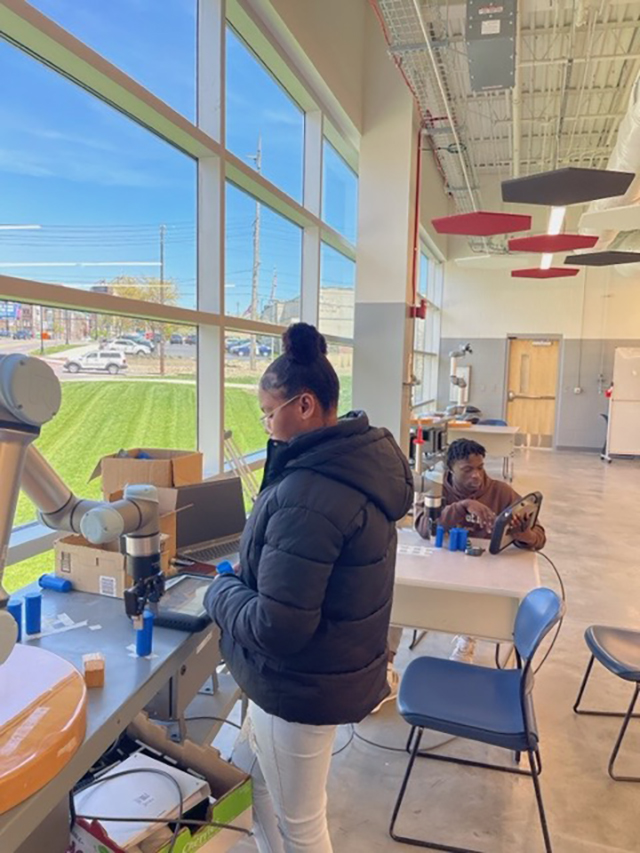 As part of a partnership between Youngstown State University's division of Workforce Education and Innovation and the Educational Service Center of Eastern Ohio, high school seniors from Austintown Fitch and Warren G. Harding spent two days at YSU's Excellence Training Center certifying in Universal Robots.
"These students are part of the first pilot group in a collaborative effort between us and YSU's division of Workforce Education and Innovation where we are working to bring these amazing programs to our high school students," stated Robert Eggleston, coordinator, Career Counseling at the Educational Service Center of Eastern Ohio.
Students have already earned the Certified Additive Manufacturing professional certification through Tooling U-SME and will be completing OSHA training before the end of the school year.
Additionally, East Palestine and Warren G. Harding high schools have had students successfully certify in CompTIA IT Fundamentals+. This certification helps individuals decide if a career in IT is right for them or to develop a broader understanding of IT. Students are now working on their CompTIA A+ certification.
This partnership has allowed for the implementation of in-demand credential programs in high schools throughout the region. Students not only can fulfill a graduation requirement, but they also gain valuable skills needed for in-demand jobs in advanced manufacturing, engineering, and information technology.
"Through this pilot group, we have learned to navigate the needs of high school students and industry," said Lindsey Ekstrand, YSU director, Workforce Education Programs. "It is with great excitement that we are announcing that we are not only offering credential pathways to our high school partners, but we will also be launching an Information Technology Support pre-apprenticeship this fall!"
As described by The Ohio Department of Education, the pre-apprenticeship program teaches basic technical and job-readiness skills for a designated apprentice occupation or sector to prepare students for a formal Registered Apprenticeship training program.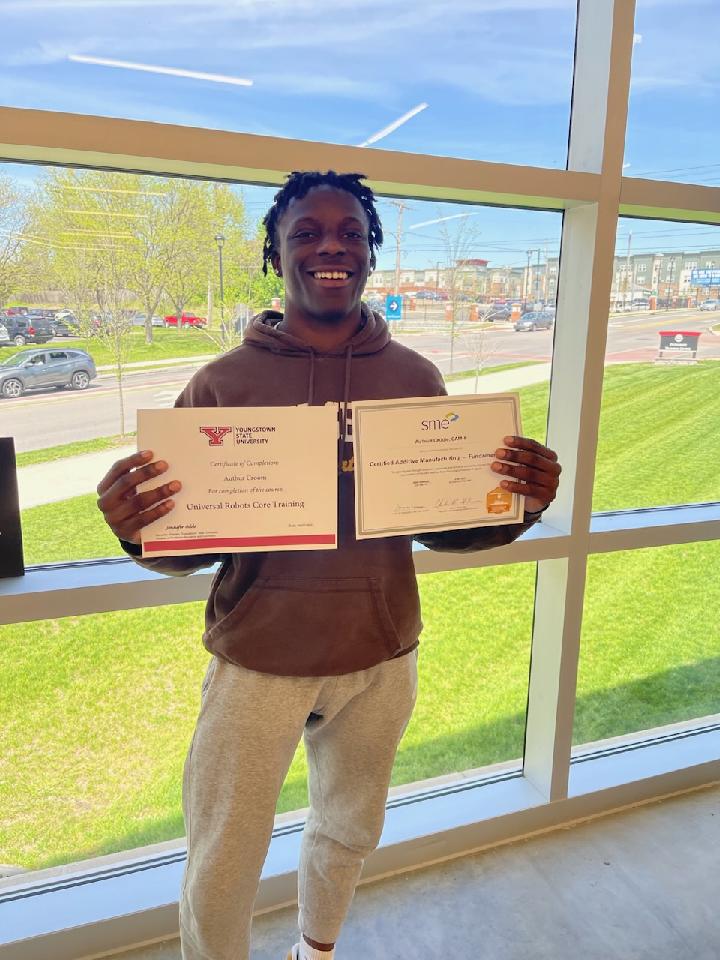 The IT Support pre-apprenticeship, built in collaboration between YSU DWEI and the ESCEO, will align to and prepare students for a Computer Support Specialist Registered Apprenticeship Program.
This exciting opportunity allows students to obtain valuable industry-recognized credentials in the field of Information Technology in addition to receiving a work-based learning experience with one of 15+ industry partners.
Ekstrand explains that students can not only stack credentials, but now, can also obtain work-based learning experiences in IT related industries. "This is a huge opportunity for high schools, students, employers, and the workforce in our region," explained Ekstrand. "This pre-apprenticeship is the truly the start of a pathway to a good job in IT."
For more information, contact Lindsey Ekstrand, director, YSU Workforce Education Programs, at lfekstrand@ysu.edu or 330-941-1406 or Robert Eggleston, coordinator, Career Counseling at the ESCEO at r.eggleston@esceasternohio.org or 330-533-8755.