YSU, UA Law agreement shortens time to earn law degree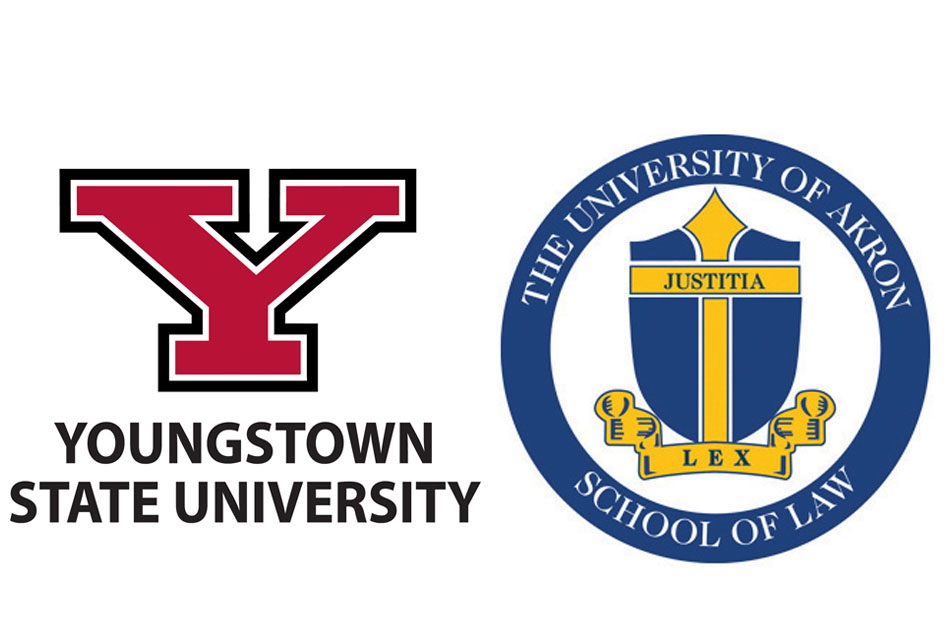 Youngstown State University and the University of Akron School of Law have signed an agreement that will shorten the time to earn a law degree.
YSU students will be able to get a bachelor's degree and a law degree in six years, rather than the traditional seven years, through an accelerated 3+3 program in which students would spend three years at YSU and three at Akron.
"This new partnership advances the goal of both YSU and Akron to decrease the time it takes students to earn a degree, reduce the overall cost to students and, ultimately, help our students graduate on time and without debt," YSU Provost Martin Abraham said. "We are very excited to be able to offer this new opportunity."
"Akron Law is thrilled to partner with YSU to offer this 3+3 program," says Ryan Vacca, interim co-Dean of Akron Law."We have a long history of YSU alumni graduating from Akron Law and becoming successful attorneys, and look forward to continuing with that success in a way that reduces both the time and expenses for students as they pursue their legal careers."
Initially, the program will be open to all students in any major in the YSU College of Liberal Arts and Social Sciences and also to students in the YSU Williamson College of Business Administration, but it could expand to include students in any major across YSU.
"We believe that this collaboration will have both a positive educational impact in the region and an equally positive impact by reducing overall time to degree," said Kristine Blair, CLASS dean.
Betty Jo Licata, WCBA dean, said business is an excellent undergraduate major for students interested in law school. "This is a valuable opportunity for highly motivated and capable students to earn their business degree and juris doctor degree in only six years," she said.
Under the agreement, students can get a YSU bachelor's degree after their first year of law school by applying the courses in the first year of law school to undergraduate degree requirements.
"Without a doubt, YSU has one of the best pre-law programs in the state," said Paul Sracic, chair of the Department of Politics and International Relations."
Over the past five years, nearly 100 YSU graduates have gone on to attend law school, he said.
"Alongside the Rigelhaupt Pre-Law Center at YSU and scholarships, and our nationally ranked moot court team, this new partnership provides yet another opportunity for our students interested in pursuing a career in the law."
Admissions representatives from the University of Akron School of Law will be at YSU on April 5 to present the new program and describe how YSU students can participate. The sessions will be noon for students in CLASS and 4 p.m. for students in Business. The sessions will be in Williamson Hall.
In July 2014, the Ohio Supreme Court approved the admission of eligible undergraduate students who had completed three years of college to law school, serving as a catalyst for developing accelerated 3+3 programs around the state.