YSU team wins Meritorious honor in international math contest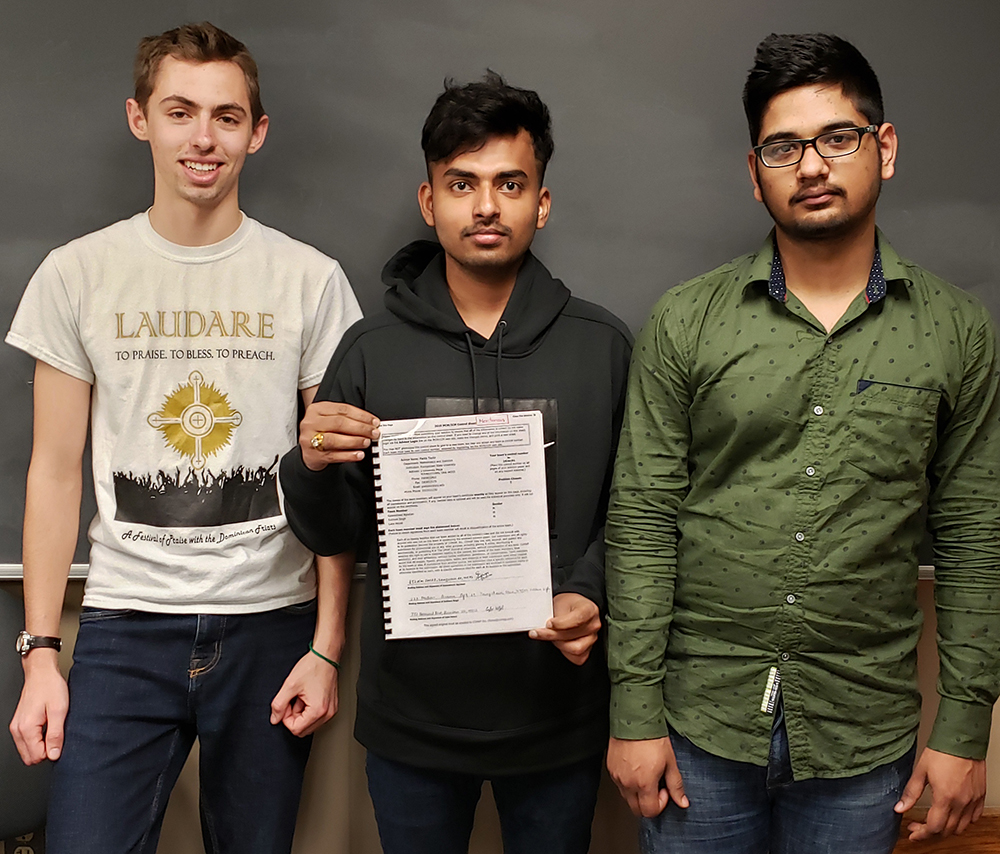 A team of three students at Youngstown State University have won a Meritorious award in the international Mathematical Contest in Modeling, placing the students in the top 8 percent of more than 25,000 participating teams worldwide.
Students Gyaneshwar Agrahari of Butwal, Nepal, Subham Singh of Kathmandu, Nepal, and Luke Hetzel of Boardman, received the Meritorious designation.
"This is a remarkable achievement by our students who have never been asked to solve such vaguely defined but important problems," said Padraic Taylor, YSU associate professor of Mathematics and Statistics. "Even more amazing is that they are all freshman."
In all, YSU had four teams and 12 students participate in the contest, which is conducted by the Consortium for Mathematics and Its Applications. "This year all participating students are in their first year at YSU and show great enthusiasm for learning and applying mathematics," said George Yates, YSU professor of Mathematics and Statistics.
This year's contest was held in and the results were published this spring. The competition gives teams of three students 96 hours to develop a model, create a solution, and submit a written report for one of several problems.
YSU's three other teams received Honorable Mention honors:
Yogesh Sapkota of Gaindakot, Nepal, Dipesh Bhandari of Kathmandu, Nepal, and Prinshep Yadav of Janakpur, Nepal, advised by Taylor.
Bishal Lamichhane of Pokhara, Nepal, Pradip Rimal of Kushma, Nepal, and Bikash Thapa of Adguri, Nepal, advised by Taylor.
Zhihan Li of Shandong, China, Luke Pandy of Brecksville, Ohio, and Nishan Adhikan of Chitwan, Nepal, advised by Yates.
"I am very impressed by the outstanding performance of our students and their eagerness to use mathematics to solve challenging real-world problems," said Thomas Wakefield, endowed professor and chair of the Mathematics and Statistics. "We are very proud of our students and faculty that help prepare them."
For information about the contest, visit COMAP online.