YSU sweeps top awards at additive manufacturing conference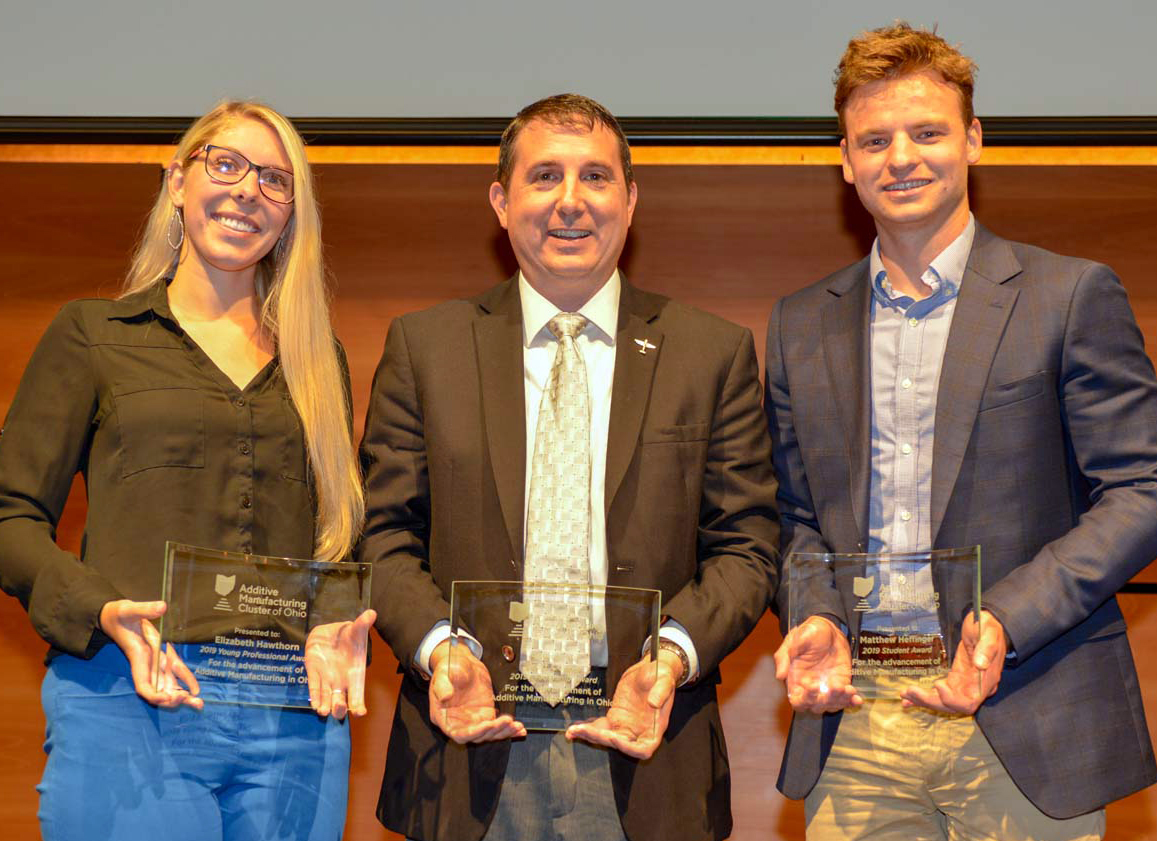 A student, a faculty member and an alumnae of Youngstown State University swept the awards at the annual conference of the Ohio Additive Manufacturing Cluster in Cleveland.
The cluster is a partnership between the Youngstown Business Incubator, Team NEO, MAGNET, JobsOhio and America Makes, with the goal of accelerating the adoption of 3D printing in Ohio. The awards ceremony, attended by more than 200 people, spotlighted individuals contributing to the advancement and use of additive manufacturing in Ohio.  
Earning awards were:
Leadership Award: Brett Conner, director of the Advanced Manufacturing Research Center and associate professor of Manufacturing Engineering at YSU. Conner also is the co-founder and chief technology officer of Freshmade3D. Conner has 20 years of experience leading R&D programs in government, industry and academia, including service as an Air Force officer. His additive manufacturing research areas include metal AM qualification research, the effects of defects in AM parts, IoT integration in AM, and impact resistance of AM materials.
Student Award: Matthew Heffinger is a senior Mechanical Engineering student at YSU and a student leader in the additive manufacturing industry through his involvement in the Center for Innovation in Additive Manufacturing Lab on campus. As an undergraduate lab assistant, Heffinger has had the opportunity to develop knowledge in all seven families of AM. He plans to continue to expand his knowledge base in the AM field upon graduation through industry experience.
Young Professional Award: Emily Hawthorn, a 2018 graduate of YSU with a bachelor's degree in Chemical Engineering, is the lead additive manufacturing project engineer for BDI Additive, a division of Bearing Distributors Inc. Hawthorn works with and educates BDI's existing sales force so that they can offer 3D printing services to customers. She also operates BDI Additive's 3D printer and manages daily operations of the division, located in YBI's Tech Block Building 5.
For more information on the Additive Manufacturing Cluster of Ohio, visit https://neohioamcluster.org/.
The award ceremony was the second event last week that recognized YSU's continued and growing leadership in advanced manufacturing. Earlier in the week, the National Institute for Standards and Technology screened a new video, "Rethinking Manufacturing", featuring two YSU graduates and a professor. The video focuses on changing the perception of modern manufacturing, portraying the positive opportunities that advanced manufacturing offers and raising awareness of manufacturing in the United States. The video is available at https://www.youtube.com/watch?v=_ao50qkNZsI&feature=youtu.be.