YSU student's research wins top award at national conference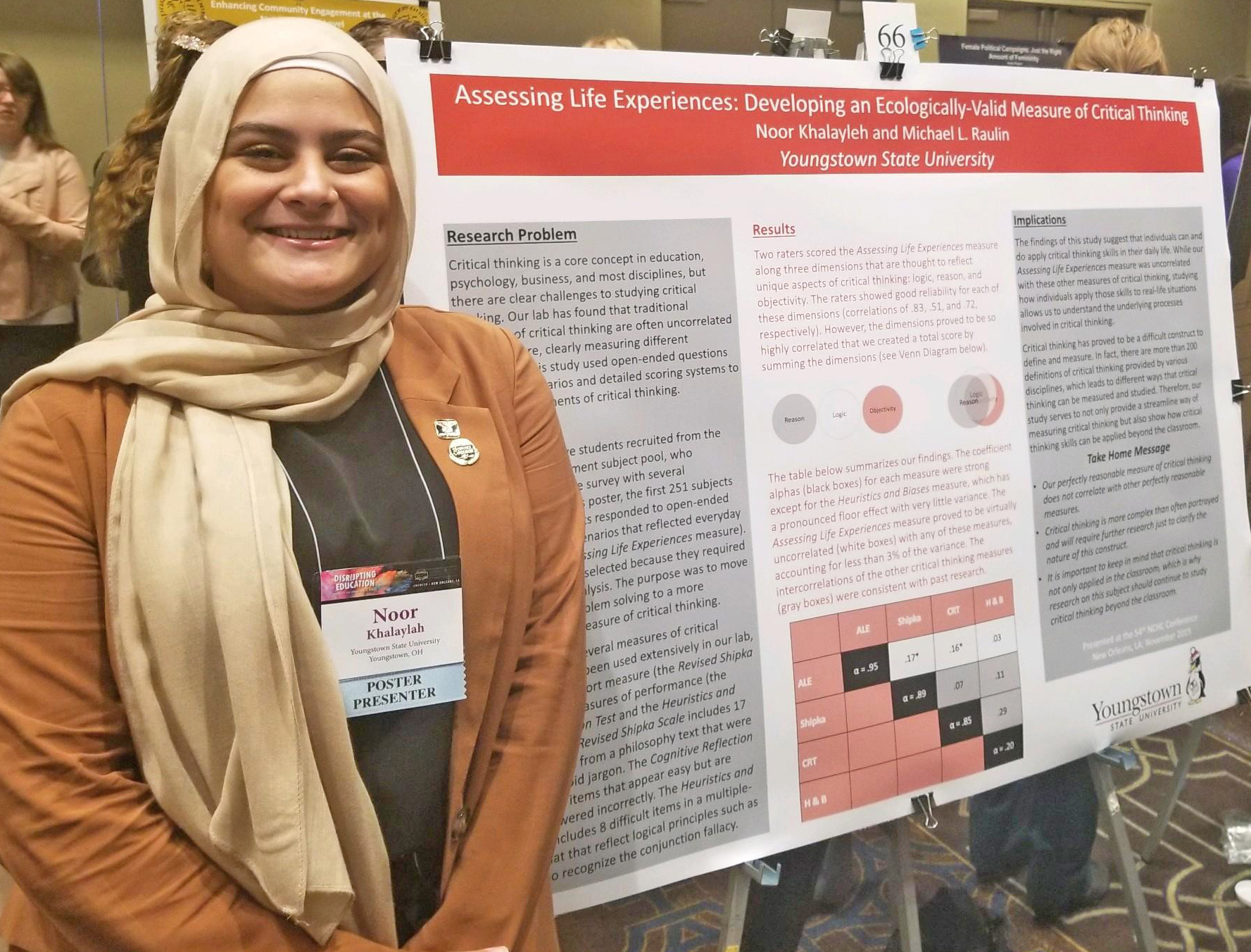 Noor Khalayleh, senior Psychology major at Youngstown State University, placed first at the National Collegiate Honors Council Conference in New Orleans earlier this month.
Khalayleh won the top award in the education and pedagogy category for her poster depicting her research project titled, "Assessing Life Experiences: Developing an Ecologically-Valid Measure of Critical Thinking," advised by Michael Raulin, YSU associate professor of Psychology.
"Noor is one of those amazing students who combines raw intellect, hard work and a desire to constantly improve to reach incredible levels of achievement," said Raulin. "I could not be more proud of her."
Khalayleh's project focuses on evaluating existing critical thinking measures and better understanding critical thinking skills in an academic setting.
"This experience has given me the confidence that I can not only excel as a student but as a professional as well. I strongly believe that with every opportunity given to me, I have to give back," Khalayleh said. "I hope by sharing my experience, it inspires others to take on opportunities that will allow them to excel in their own career and encourage others to do so as well."
The NCHC conference brings together students, faculty and administrators from across the world to collaborate and inspire new ideas and energy into honors education. YSU students have been attending the conference since 2008. In the past decade, YSU students have received four top awards.
"Our students' consistent success at this level demonstrates their motivation, academic quality of YSU programs, and investment of faculty who have prepared them to compete on the national stage." said Amy Cossentino, dean of the Honors College.
Eight YSU students attended this year with three presenting in the poster competition, three sharing best practices in the idea exchange and two presenting at a session. For some students, NCHC is their first opportunity to experience a professional conference.
"Students are exposed to diverse and interdisciplinary perspectives, see scholarly works by other honors students, gain and share ideas, and bring back insights to continuously advance the student experience at YSU," Cossentino said. "All of these experiences they would not have without the opportunity to travel to NCHC."
Attendance at NCHC directly supports Honors College pillars of academic and research, interdisciplinary perspectives and global citizenship. Currently, there are 1,266 students in the Honors College.