YSU senior receives Alpha Xi Delta Outstanding Senior Award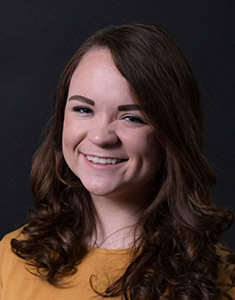 Taylor Tomb, a senior Primary and Special Education major at Youngstown State University, has won the Outstanding Senior Award from Alpha Xi Delta, the sorority's most prestigious award to a collegiate member.
She is the first YSU student to ever receive the award from Alpha Xi Delta, one of the oldest women's fraternal organizations in the United States, with 129 chapters and 162,000 initiates.
"Taylor truly exemplifies what it means to be a sorority woman," said Carrie Anderson, YSU associate director of Student Activities and fraternity/sorority advisor. "She has proven herself to be a selfless and humble leader and one who truly works hard for the greater good and unity of her chapter and our Greek community.
"A more dedicated and outstanding senior would be hard to find, and she hasn't finished her work yet."
A native of Hillsville, PA, Tomb joined YSU's Theta Upsilon chapter of Alpha Xi Delta in Fall 2017 as a freshman and has served in multiple roles since, most notably as the Philanthropy chair, vice president of Membership Recruitment and two terms as chapter president.
"I actually was never interested in being in a sorority until I met the girls of Alpha Xi Delta," Tomb says.
In addition to her leadership roles in Alpha Xi Delta, Tomb is the former president of Sigma Alpha Lambda Honors Society and the public relations director of the Minority Education Association. She's also a member of the Spanish Club and Students for Sight. She also works full-time at St. Elizabeth's Hospital as a transporter for patients and at Pathways taking care of children needing one-on-one support. She also has a passion for education and it is reflected in her desire to compete her degree in Primary Education and Special Education.