YSU reappoints Prof. Fluker as Reeder Endowed Professor of History
Amy Laurel Fluker, assistant professor of History at Youngstown State University who specializes in the study of Civil War memory, has been granted tenure and promotion to the rank of associate professor by the YSU Board of Trustees. She has also been reappointed, for another three-years, as the Robert W. Reeder I Memorial Endowed Professor of History at YSU.
The professorship was originally bestowed upon Fluker at a ceremony in August 2020 by Robert Reeder III and Charles Howell, dean of the Beeghly College of Liberal Arts, Social Sciences and Education at YSU.
Reeder III, a 1981 YSU graduate and now a partner in a New York law firm, donated $1 million to YSU's "We See Tomorrow" campaign to create professorships in History and English in honor of his grandparents – Robert W. Reeder I and Grace Ruth.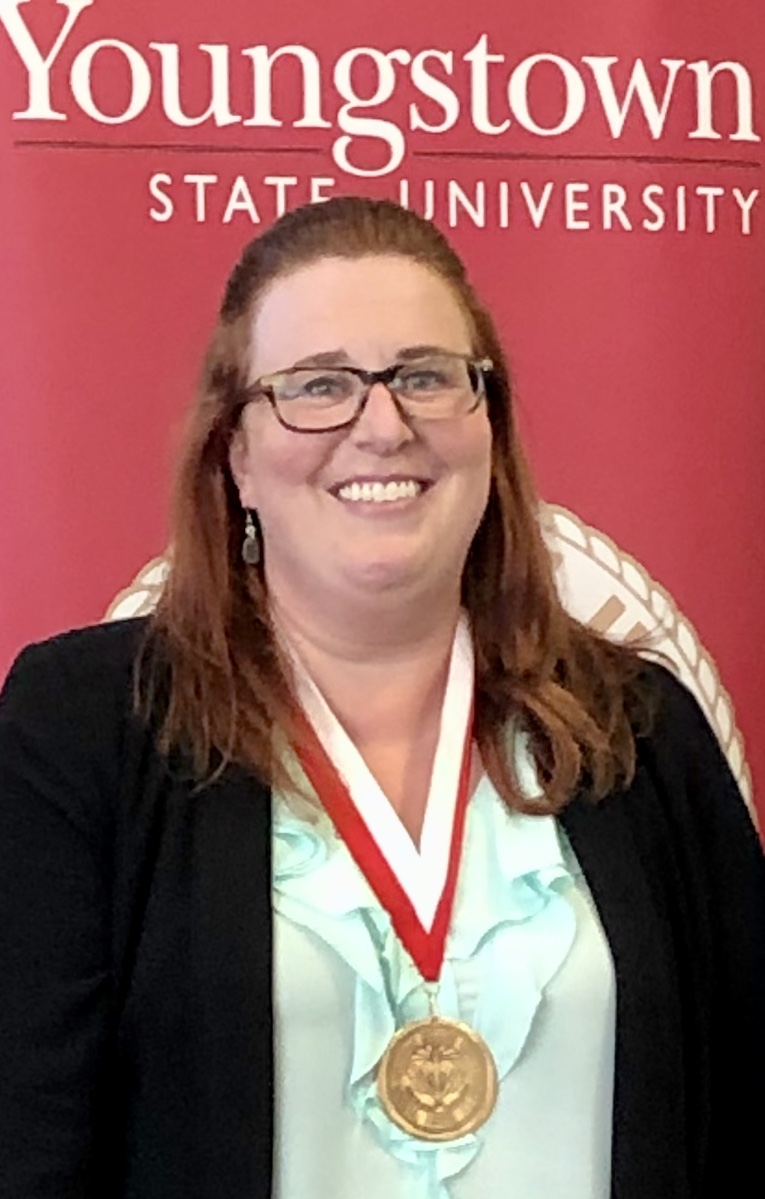 Fluker holds a bachelor's degree in American History from Westminster College in Missouri and master's and PhD degrees in American History from the University of Mississippi. She was a visiting professor at Mississippi before joining the YSU faculty in 2018. Fluker's interest focuses on the intersection between regional identity and Civil War commemoration in the west.
Fluker teaches undergraduate and graduate students and maintains active agendas in research and scholarship.
Reeder I was a life-long resident of Youngstown and later in life lived in Greenford, Ohio. To support his family, Reeder went to work in the steel mills as a teenager and never had the opportunity to pursue his dream – to go to college and law school. He loved reading, history in particular. In his retirement, he was president of the Columbiana Historical Society, a zoning commissioner for Green Township, and spent much of his time traveling Ohio, with his wife Ruth, visiting historical sites. He was particularly interested in transportation, and also had a love for covered bridges.
Grace Ruth also was a life-long resident of Youngstown whose dream to attend college and ultimately become a lawyer was cut short by her father's untimely death. An avid reader and skilled writer, she graduated from high school in just two years, tutored underprivileged students, taught Sunday School, was the president of the PTA and was a Cub Scout den mother. She supported civil rights long before the protests of the 1960's, and she gave generously to charities aimed at helping the poor.
YSU has 17 endowed faculty positions on campus: Morris and Phyllis Friedman Chair in Engineering, Paul J. Thomas Chair in Economics, Lariccia Family Professorships in Business (three professorships), John S. and Doris M. Andrews Chair in Accounting, Charles Darling Chair in American Social History, David and Helga Ives Distinguished Visiting Humanities Scholar, Grace Ruth Professorship in English, Mr. and Mrs. William B. Clayman Professorship in Judaic and Holocaust Studies, Robert W. Reeder I Professorship in History, Medical Mutual of Ohio Professorship in Actuarial Science, Enyon Beyer Chair in Metallurgy, Warren Young Chair in Astronomy, James P. Tressel Chair in Leadership, Patricia McGovern Sweeney Professorship in Nursing and the Professor of Islamic Studies.