YSU radio show presents "Ghastly Ghost Stories"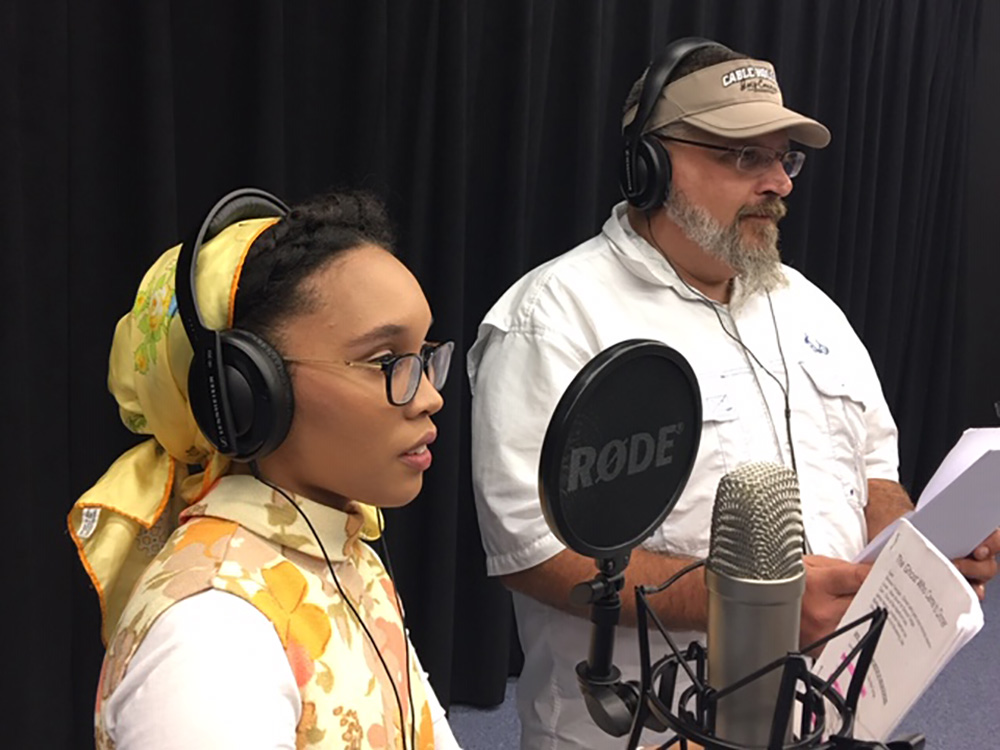 Get your BOO! on as Youngstown State University presents "Haunted Youngstown-Ghastly Ghost Stories" as the theme of the next performance of the Good Humor Radio Hour 6:30 p.m. Tuesday, Oct. 29 and Wednesday, Oct. 30, in the Butler Institute of American Art-North.
The show, directed by YSU alumnus and adjunct faculty member Randall Brammer, is free, but tickets must be secured in advance by calling the University Theatre Box Office at 330-941-3105.
Based in YSU's Department of Communication, the Good Humor Radio Hour features live actors on old-time radio microphones including live sound effects and music to a selection of dramatic tales. The project draws widely on talent from the Youngstown-Warren region and YSU students, comprising actors, Foley artists, sound engineers and musicians.
The cast includes Kira Walker, Columbus, OH; Zander Markman, Amherst, WI; Brenda Zyvith, Youngstown, OH; Katie Gennaro, Youngstown, OH; David Robich, Poland, OH; David Leach, Poland, OH; Michael Hill, Canfield, OH; Bill Ploskodniak, Niles, OH; Tom Patton, Salem, OH; Douglas Campbell, Ohioville, PA; Jay Lilley, Niles, OH; and Gary Rhamy, Youngstown, OH.
Other featured performers are Aaron Graneto, Canfield, OH (Music); Michael Houy, Poland, OH (Sound Effects); Meredith Pallo, Sharpsville, PA (Sound Effects) and Alex Marker.
The shows:
Ghost Hunt: Mrs. Thorpe is trying to flip a house she owns who no one wants to buy. As a marketing ploy, Realtor Mrs. MacDonald enlists Radio DJ Smiley Smith, and Parapsychologist Dr. Reed, to spend the night in the house to see if it really is haunted and broadcast their experience for the listeners. The results are terrifying when Mrs. Thorpe and Mrs. MacDonald come back the next morning to check on the men and see things have gone terribly wrong.
The Ghost Who Came to Dinner: Simona Templar has been invited to a dinner party at a house on the outskirts of Youngstown, and has hired Louie to drive her out there. They become detective partners, of sorts, when they end up stumbling upon a murder in the very spooky looking house. The question is, was the murderer a human or a ghost?
The Dark: A doctor and paramedic are called to a house to help someone who has been hurt in some way. It is seemingly another routine night at work until they reach the very unsuspecting house. However, once they get inside, they discover horrors no one could have never imagined. The question is, will they be able to get out alive?
Halloween Sound Story: The sound effects crew and orchestra will take the audience on an auditory ride through a haunted house. The audience will hear various sound effects from the array of characters and creatures that inhabit the house.
Limited free parking is available at the Butler Institute of American Art, or in the Wick Avenue deck for a nominal fee. More information at 330-941-2307.