YSU opens Watson Team Center on campus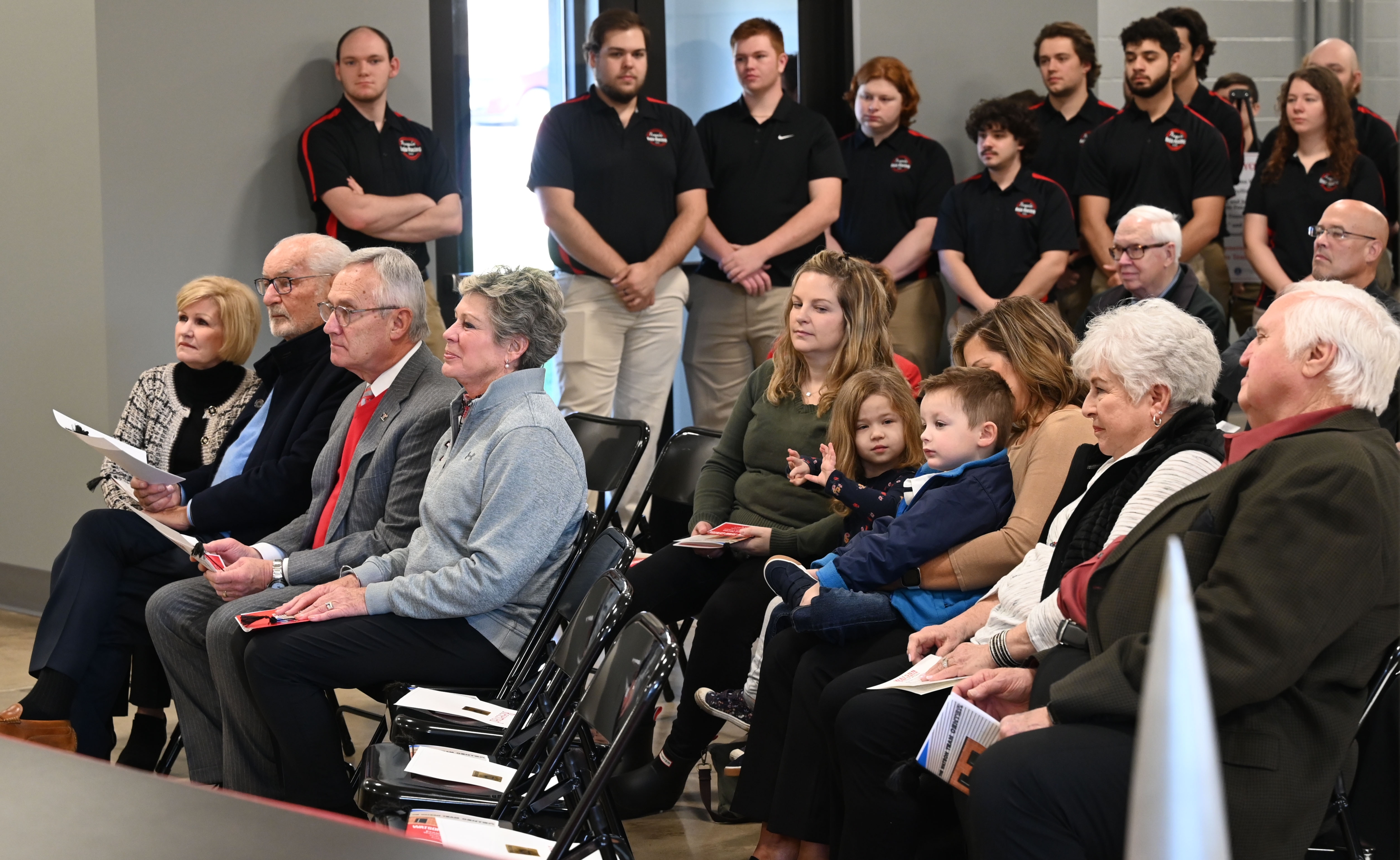 Youngstown State University today celebrated the official opening of the Frank and Norma Watson Team Center on Rayen Avenue, a new facility designed to better prepare YSU engineering teams for regional, national and international competitions.
"This facility provides cutting-edge resources for the dozens of Engineering and Engineering Technology students who represent YSU at competitions around the world," YSU President Jim Tressel said. "It's yet another example of YSU's commitment to our students' success both inside and outside the classroom."
The center is named after the late Frank and Norma Watson, generous and active supporters of the university for more than 70 years, including a $1 million gift in 2016. The couple, who received the YSU Friends of the University Award in 2007, are the parents of Ellen Tressel, President Tressel's wife.
"Mom and dad would be so proud to see this center come to fruition," Ellen Tressel said. "This university was a major focus and love of their lives. We are honored and touched with today's dedication."
The center will house YSU's nine student-led teams, including the Baja Car, Steel Bridge and Concrete Canoe competition squads, all of which have consistently placed high in contests held across the country. The Bridge team has finished first in four of the last five regional contests, while the Concrete Canoe team has won three of the last four. In 2021, the Canoe team placed second in the national competition.
"This new Center will allow all of our student teams to share common resources efficiently and effectively, especially with the YSU Excellence Training Center right down the street," said Wim Steelant, dean of the College of Science, Technology, Engineering and Mathematics. "The Center's location between our business and engineering buildings on campus also allows for business students and engineering students to collaborate."
Frank Watson graduated from Youngstown College in 1949, served as a member of the YSU Board of Trustees from 1978 to 1987, is one of the original members of the YSU Foundation Board of Trustees and chaired the fund-raising campaign for the construction of Stambaugh Stadium during the late 1970s.
A native of Webster, N.Y., Watson served in the U.S. Navy in the Pacific theater during World War II and served as president of Youngstown Welding and Engineering Co. from 1959 to 1998.
Norma Watson devoted her life to family, service and volunteer work in the community and was active in organizations such as the Federated Women's Club, Mahoning County Residential Financial Center Campaign Chair, Friends of American Art, Fellows Riverside Gardens and the Youngstown Playhouse.
The Watsons made other significant philanthropic contributions to YSU over the decades, including gifts toward Stambaugh Stadium, the Scholarship Loge Program, the Andrews Student Recreation and Wellness Center and the Watson and Tressel Training Site.