YSU Honors student earns Legacy Award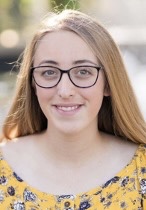 Julie Centofanti, a sophomore in the Sokolov Honors College at Youngstown State University, is among only two students across Ohio to receive the 2022 Charles J. Ping Student Service Legacy Award for outstanding leadership and contributions to community service.
Centofanti, a Biology major, received the award for creating and leading the YSU Transcribing Club, which has transcribed more than 16,000 historical documents through the Smithsonian and the Library of Congress.
YSU President Jim Tressel, who nominated Centofanti, and Richard Kinsley, executive director of the Ohio Campus Compact, will present the award 1 p.m. Saturday, April 23, as part of the annual YSU STEM Showcase in Moser Hall on the YSU campus.
In all, the Ohio Campus Compact is presenting Ping Awards to 10 Ohio college students, but Centofanti and Anna Fender of Ohio Wesleyan University are the only two among the 10 receiving Legacy Awards, for projects that address economic, emotional and environmental needs in a community.
A graduate of South Range High School, Centofanti is a member of YSU's BaccMed program that leads students to medical school and careers in medicine. She is donating her $250 prize to the Smithsonian.
She said the idea for the Transcribing Club grew out of the height of the COVID-19 pandemic, when students in the Honors College were looking for ways to do community service while also adhering to quarantine rules.
"As a busy student with an immunocompromised father, I wanted to continue serving the community while protecting my family from this virus," she said.
That's when she came across the Smithsonian's and Library of Congress' transcription service, in which volunteers transcribe and digitize millions of hard-to-read historical and scientific documents, from letters to Teddy Roosevelt to notes of early 20th-century astronomy experiments.
"This club provided the perfect platform for me to volunteer and virtually build community among honors students while quarantined at home," Centofanti said. "Club members worldwide have the opportunity to interact with students of different majors."
She said she hopes to expand the Transcribing Club by scanning, digitizing and transcribing historical documents from Youngstown and surrounding communities, allowing students to learn more about the Youngstown community while building friendships among students.