YSU hits record $24.1 million fundraising mark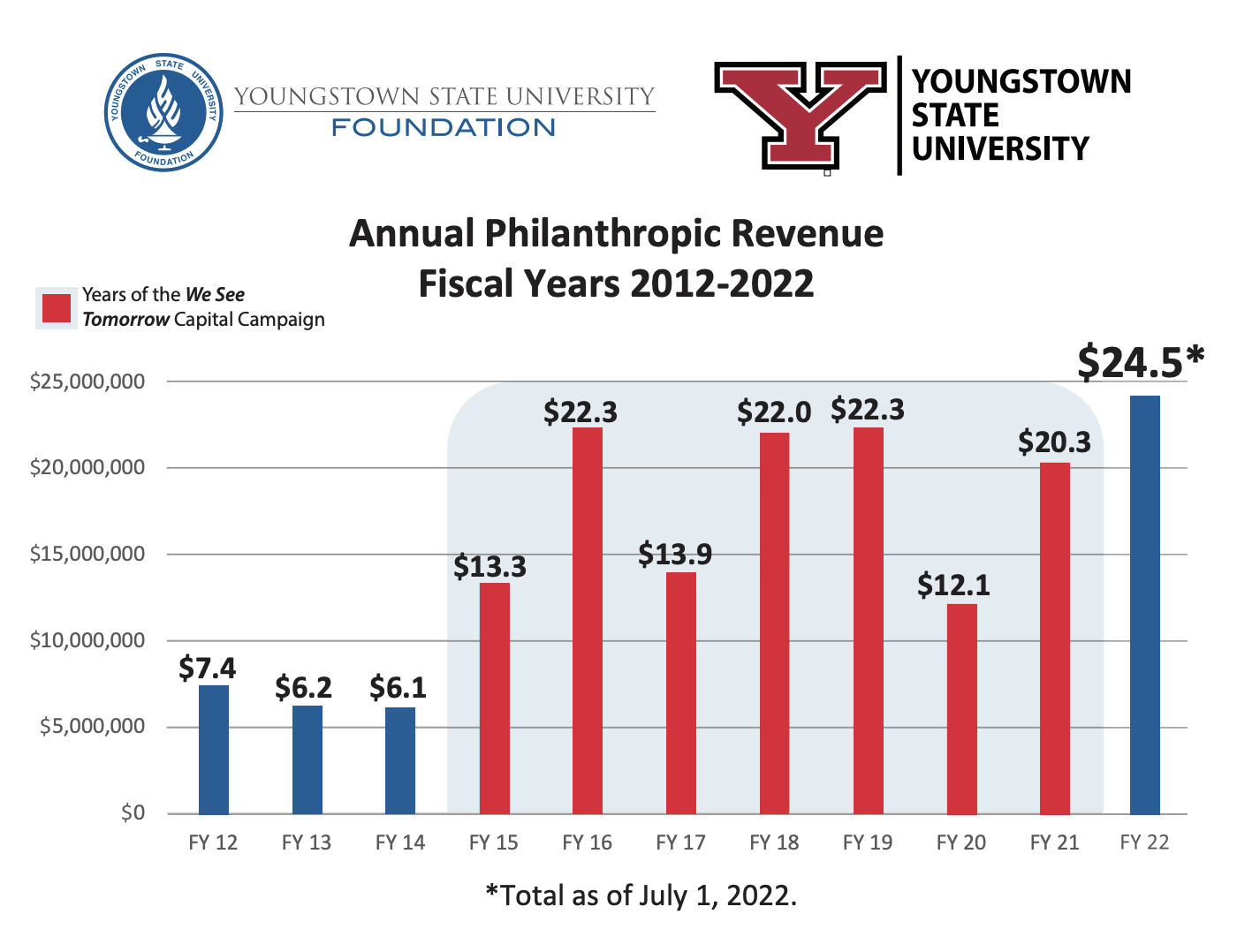 Youngstown State University and the YSU Foundation received a record $24.1 million in gifts in the 2021-22 fiscal year, the largest one-year total in the university's 114-year history.
"Our donors are among the most generous and supportive anywhere in the nation," YSU President Jim Tressel said. "Their continued commitment bodes well for the university, our students and our community."
The record year is the latest in a string of fundraising successes for YSU and the YSU Foundation, which oversees the university's philanthropic activities. In fiscal year 2014, the year before Tressel was named president, YSU raised $6.1 million. The next year, the total more than doubled to $13.3 million, and then jumped to $22.3 million in fiscal year 2016. In all, since Tressel's arrival, YSU has received $150.3 million in gifts.
"The combined efforts of President and First Lady Tressel, our donors, the campus community, and our talented and hard-working Foundation staff have helped raise tens of millions of dollars to make sure we provide the best possible opportunities to our students and the entire Mahoning Valley community," said Paul McFadden, YSU Foundation president.
In FY 2022, YSU received 4,360 gifts in all, up 11 percent over 3,925 gifts the previous fiscal year.
Donations were paced by a $5 million gift by Dr. Chander Kohli and his wife, Karen, to name Kohli Hall; $1.5 million from Richard and Susan Sokolov to name the Sokolov Honors College; and a $1 million gift by Vince and Phyllis Bacon to support the Watson Team Center on campus.
The fundraising records coincided with the YSU "We See Tomorrow" capital campaign, publicly announced in 2018 with a goal of $100 million and upped to $125 million two years later. Tressel and McFadden announced the end of the campaign in September 2021 with a total of 32,581 gifts amounting to $126.2 million, including 40 gifts of $1 million or more.
"Our donors are committed to providing opportunities for our students," McFadden said. "Through scholarships, endowed professorships, support of various academic programs and assistance with university initiatives, we remain forever focused on ensuring YSU students have the means and resources to pursue their career and personal goals."
The YSU Foundation dates to 1966, when Howard Jones, who served as president of Youngstown College and Youngstown University for 35 years, established "The Youngstown Educational Foundation" as the university's private endowment. In 1983, the name changed to the YSU Foundation, all the while maintaining its autonomy and independence from the university. Shortly after Tressel became president in 2014, the university shut down its own development operations, and contracted with the Foundation to provide philanthropic services. Today, the Foundation, whose endowment is one of the largest among public universities in Ohio, is YSU's designated philanthropic entity and provides $10 million in scholarships to YSU students annually.