YSU earns national recognition for international enrollment efforts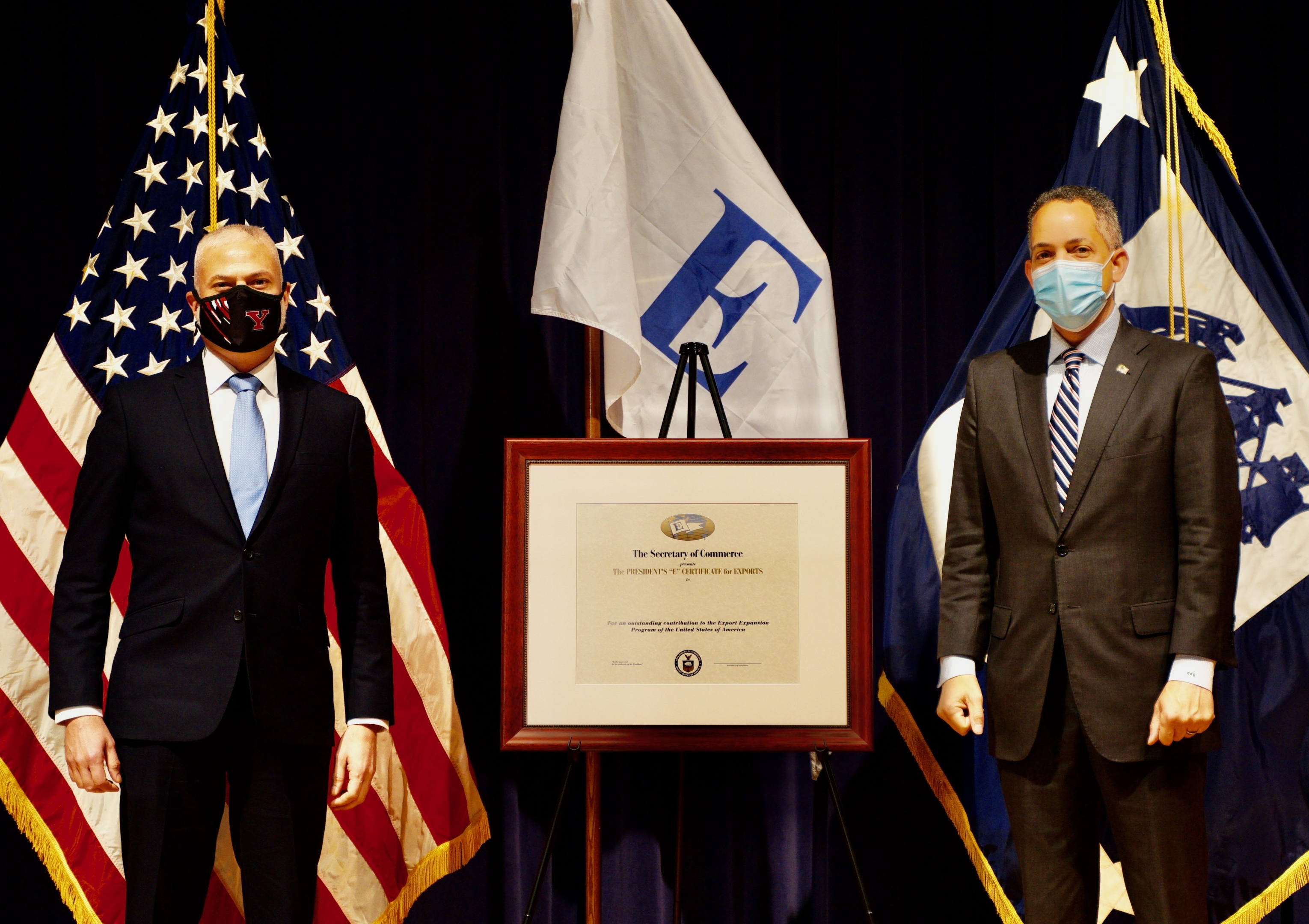 Youngstown State University has been selected to receive the 2021 President's "E" Award for its ongoing efforts to enroll international students, the only university in the nation to earn the recognition.

"The awards committee was very impressed with Youngstown State University's successful implementation of an international growth strategy," U.S. Secretary of Commerce Gina Raimondo said.

The award is the highest recognition any U.S. entity can receive for making a significant contribution to strengthening the economy by sharing American ingenuity outside of the country.

"Admission to YSU offers students the opportunity to gain a world-class education at an incredible value," said Nate Myers, YSU associate provost for International and Global Initiatives.
"Thanks to the hard-work of the professionals in the YSU International Programs Office, together with the strong support of the YSU administration and dedication of faculty, international students will continue to contribute to YSU's vitality, diversity and educational experience far into the future."
YSU was among only 32 U.S. companies and organizations nationwide, and only two in all of Ohio, receiving awards for 2021.

Between Fall 2016 and this past summer, YSU enrollment of international students increased from 316 to 455, including big increases in students from Nepal (11 to 72), Kuwait (12 to 38), Vietnam (4 to 26) and South Korea (4 to 18).

In 2019, the Institute of International Education reported that the rate of growth of YSU's international student population was the second fastest among public universities in the United States.

Myers said the economic impact of increased international enrollment is significant, generating $7.2 million in tuition alone for the 2020-21 academic year.

"The increase in student enrollment brings a cascading effect of economic opportunities and development across the Northeast Ohio region," YSU said in its application for the award. "In Youngstown, we have witnessed a rapid growth of the retail, real-estate and overall commercial activity in our campus and downtown core that was, in-part, driven by the increasing numbers of international students and their families who chose to study here."

Other notable international efforts include: Participation in the Education USA Fair in Nassau, Bahamas, that resulted in the doubling of the number of students from the Bahamas enrolling at YSU; participation in a trade delegation to Southeast Asia that helped build YSU's brand and resulted in significant enrollment growth; participation in an event in Nepal in 2017 that also resulted in a big jump in Nepalese students; participation in virtual events to engage markets in Colombia, Japan, China, Bangladesh and India.

Myers' office is also currently developing a report on a new internationalization strategy for the university that includes plans to improve the retention, persistence and success of international students, to engage specific countries and regions for international recruitment and to developed targeted scholarships for international students.