YSU DPT deemed "Program of the Year"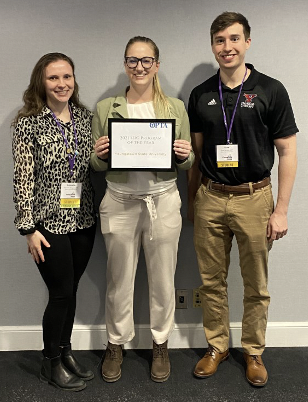 The Ohio Physical Therapy Association has named YSU's Doctor of Physical Therapy as the 2021 Program of the Year.
It's the second consecutive year that YSU's DPT bested the state's 10 other PT programs to receive the award.
The DPT at YSU, a 2.5-year full-time doctoral program, has graduated 376 students since its start in 2008, including 35 at Spring Commencement on May 7.
The OPTA honor recognizes community service activities conducted by YSU DPT students. Among the activities was a Global PT Day of Service picnic and carnival in support of The Purple Cat, an initiative that offers day-program alternatives for adults with disabilities. Students also donated more than 100 food and hygiene items to the Penguin Pantry at YSU. They also wore red on National Wear Red Day to help raise awareness about heart disease and collected donations for the American Heart Association.
Leading the events were third-year students Matt Coalmer and B.J. Guss, second-year student Macy Debevec and first-year students Evan Urrutia and Gabby Wagner.