YSU defends title as top recycling campus in Ohio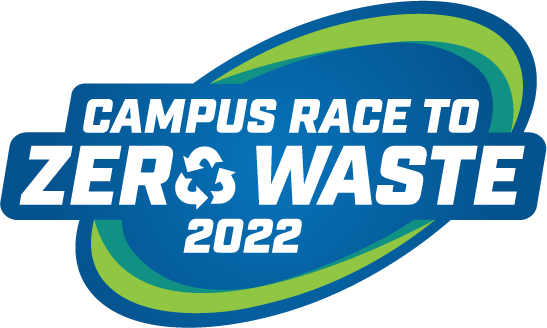 Youngstown State University defends its statewide number one ranking, and 10th national ranking, in the annual Campus Race to Zero Waste competition that kicks off this week at more than 400 universities and colleges nationwide.
"Our students and employees have consistently led the way across the state and nation when it comes to reducing, reusing and recycling waste," YSU President Jim Tressel said. "We look forward to another top-tier finish in this year's competition, retaining our reputation as one of the most recycle-friendly university campuses in the country."
YSU's record in the competition, formerly known as RecycleMania, is impressive. YSU has  placed first in the state of Ohio for nine consecutive years and 14 of the last 16, besting eight other universities including Ohio State, Akron, Kent State and Ohio University. The other two years, YSU was in second place.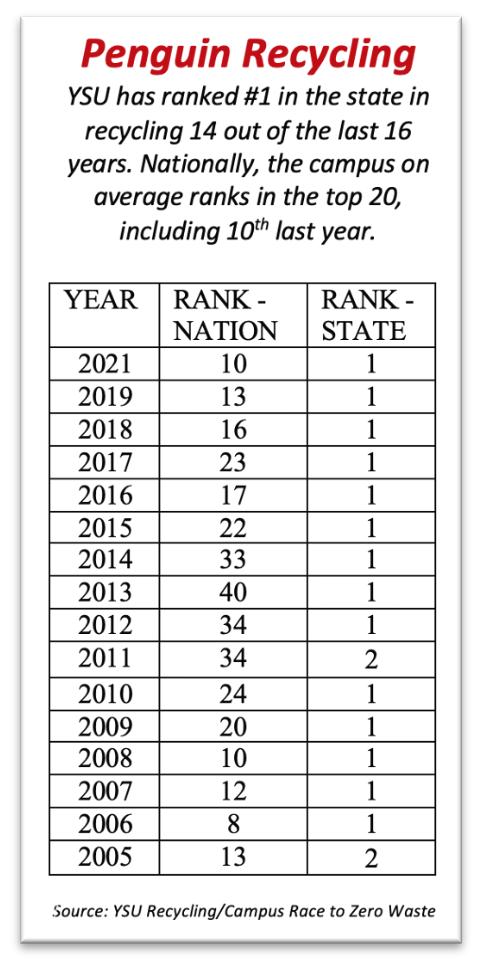 Nationally, YSU on average has ranked in the top 20 in each of the last 16 years, including 10th last year, 13th in 2019 and eighth in 2006. 
In last year's competition, YSU achieved a recycling rate of 55 percent by recovering about 170,000 pounds of recyclable material generated on campus. Between 2010 and 2020, the university diverted 8,309 tons of recyclable, reusable and compostable materials from landfills. That's 1.4 million pounds.

"For more than 20 years, YSU has remained steadfast in its commitment to a strong, cutting-edge campus recycling program," said Dan Kuzma, YSU recycling manager. "Every year, we recycle several hundred tons of materials, saving landfill space, conserving natural resources, saving energy and preventing more pollution."

This is YSU's 17th year in Campus Race to Zero (https://recyclemania.org/), a friendly competition and benchmarking tool for university recycling programs managed by the National Wildlife Federation. This year's competition runs Jan. 31 through March 26.
Kuzma said YSU will again implement the "Get Caught Green-handed" campaign during the competition, under which students will be rewarded for being caught recycling on campus.
He said that this year's campus effort will focus specifically on reducing single-use plastic containers, noting that YSU has many water bottle refill stations across campus to eliminate purchasing bottles of water. "We will be looking for students refilling their reusable bottles or using reusable containers for hot beverages," he said. Among the awards are free passes for select instructor-led kayak or stand up paddle board trips and lessons sponsored by YSU Campus Rec with grant funding from the Ohio Department of Natural Resources.

The YSU Recycling Program was formed in 2000 in collaboration with the Mahoning County Solid Waste District (Green Team) and with the encouragement of the Ohio Department of Natural Resources. Funded via grants from the Green Team, the program handles a variety of recyclable materials on campus, including metal, glass and plastic beverage containers, mixed paper, publications and cardboard, as well as electronic waste, scrap metal and pallets.

In addition to its national rankings in Campus Race to Zero Waste competitions, other accomplishments of the YSU program include: first in the state to implement a "Dump and Run" reuse collection for students moving out of residence halls; first in the state to compost food waste; implemented "tray-free" service in YSU dining halls to promote sustainability; and received grants to purchase 72 containers to expand recycling capabilities during campus events.
In addition, the program was ranked seventh in the nation on the list of "America's 50 Top Colleges with the Best Recycling Programs" by Great Value Colleges and has also received national awards from the U.S. Environmental Protection Agency.