Williamson College names three Beeghly Fellows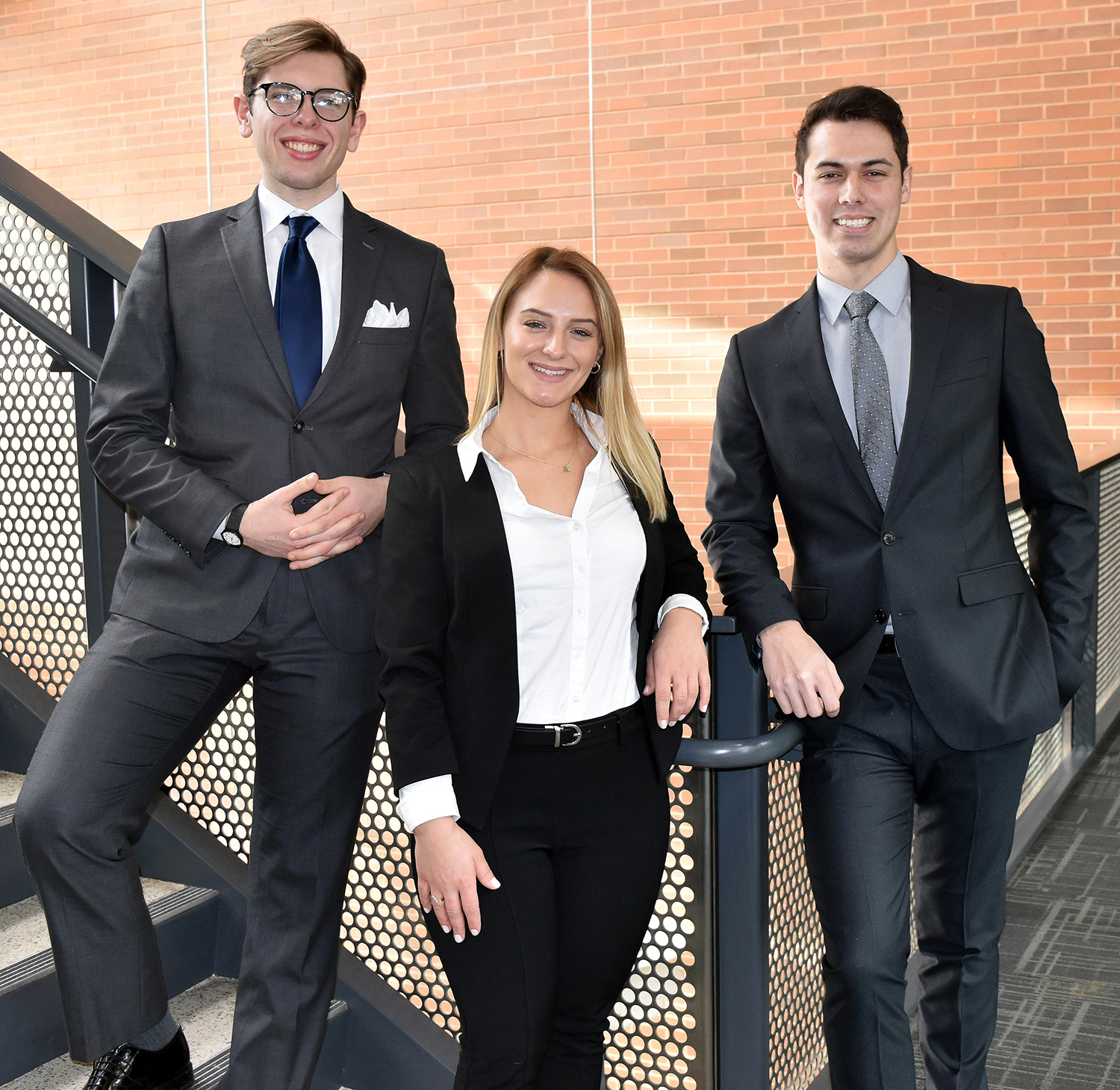 Richard Fisher, Gryphon Johnson and Maria Vince, students in the Williamson College of Business Administration at Youngstown State University, have been selected as John D. Beeghly Fellows for the 2019 Spring Semester.
The Beeghly Fellows program provides students with paid fellowships working with the Ohio Small Business Development Center at YSU.
John David Beeghly was a lifelong resident and businessman in Youngstown, and the son of area industrialist and philanthropist, Leon A. Beeghly. From 1967 until his death, Beeghly served as vice president and director of Standard Slag Co. and Stancorp, Inc., a holding company for industrial businesses. The Fellows program is made possible by an endowment established at the YSU Foundation by Mr. Beeghly's wife and children.
"We are extremely grateful to the John D. Beeghly Family for making this generous investment in our business students. Providing our students with career-related experience contributes to the success of our regional businesses and the professional preparation of our students," said Betty Jo Licata, WCBA dean.
This semester's fellows are:
Richard Fisher of Boardman, sophomore Finance and International Business major at YSU, currently works as a Beeghly Fellow intern at the SBDC, where he is conducting in-depth analysis for local businesses, as well as government procurement projects. After graduating, Fisher plans to receive a joint MBA/JD degree to later pursue a career in either law or banking.
Gryphon Johnson of Sharon, Pa., is a junior pursuing a double major in Finance and Advertising/Public Relations. Johnson is a member of the Student Investment Fund, Ads Club, the Honors College and WCBA Business Leaders. He plans to continue his education upon completing his undergraduate degree, and hopes to leverage his knowledge and skill sets to become a leading participant in the business community.
Maria Vince of Warren, a junior Marketing Management major, is a Beeghly Fellow intern at SBDC, working with consultants with a focus in marketing. Vince has been accepted in the 2019 Ohio Export Internship Program and is a member of Alpha Omicron Pi, Pi Sigma Epsilon and the International Business Organization YSU. Upon graduation, Vince plans to pursue a career in the marketing industry.