WCBA students support regional government contracting activities
Fourteen business students have been selected to participate in the pilot Ohio Procurement Internship Program in the Williamson College of Business Administration at YSU.
Students selected for this competitive program completed specialized coursework in government contracting this spring semester and have been matched with an Ohio company for a full-time paid summer internship. Internship projects include procurement compliance, market research, market expansion, and government sales strategy plans.
The Ohio Procurement Internship Program, created by the Ohio Department of Development, is being offered at Youngstown State University as a pilot initiative. The program provides a unique opportunity for businesses interested in expanding their government contracting activities to leverage the skills and knowledge of specially trained college students.
In this pilot year, 14 students are involved in the course, with 10 accepting internships this summer with Ohio businesses. Of the four not pursuing internships directly with companies, one is considering opportunities in small business development, and three are focusing on their own chosen career paths.
Joseph Scott, statewide director of the Ohio APEX Accelerator and the OPIP, is the instructor for the course. He is supported by Rich Delisio, director of the Ohio APEX Accelerator at YSU, and Scot Loveland, procurement consultant of the Ohio APEX Accelerator at YSU.
---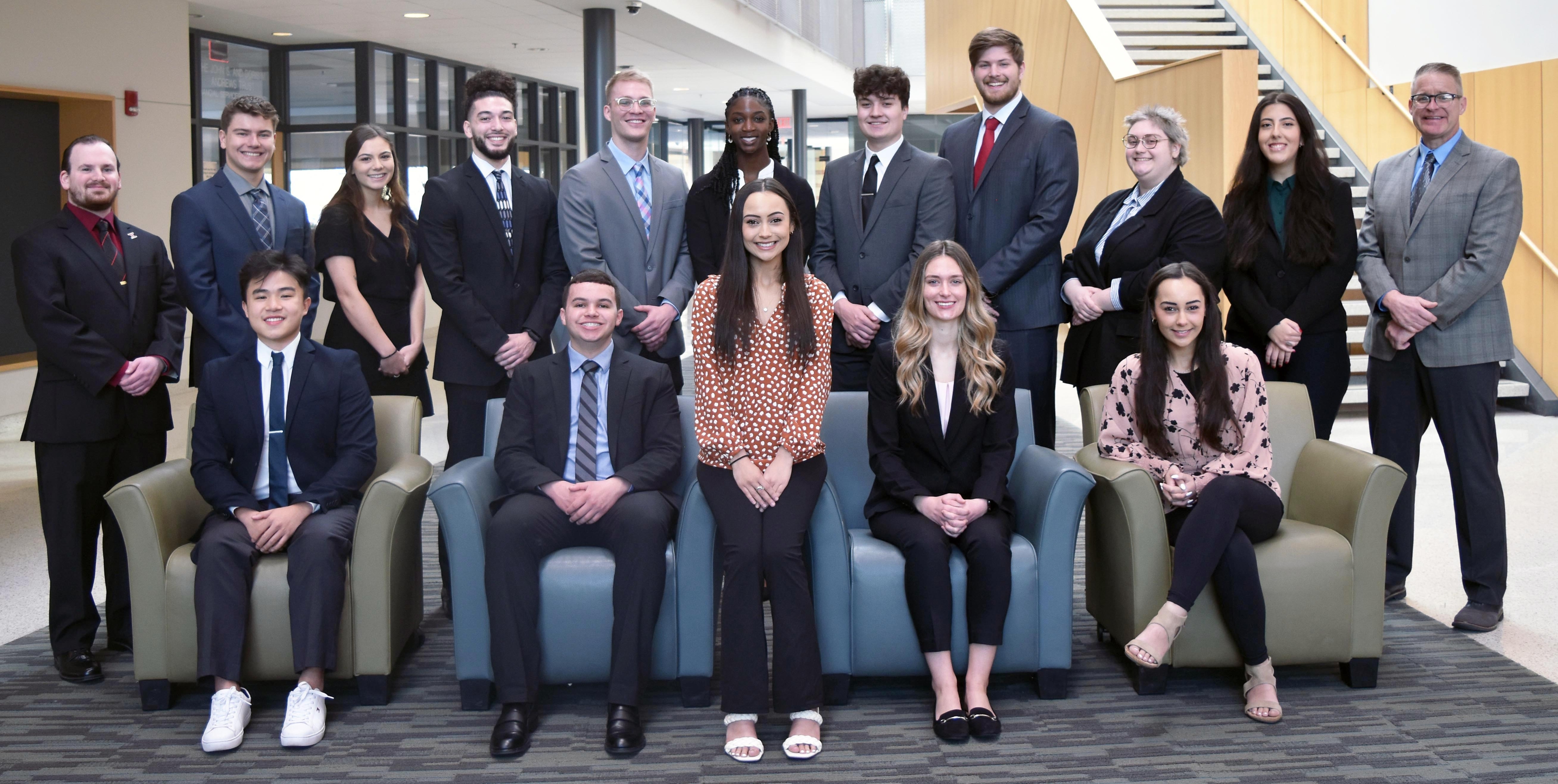 This year's participants from Youngstown State University:
Jacqueline Baldwin is a first-year student pursuing a BSBA degree in Accounting. Originally from Dayton, Ohio, she is a member of the Sokolov Honors College at YSU and a former member and competitor of the Career and Technical Student Organization, Business Professionals of America. Baldwin is expecting to graduate in the spring of 2026, after which she plans to become a Certified Public Accountant with the goal of working for a global development and publishing company. Baldwin was matched with D'Angelo Technologies.
Colin Burdette is a first-year finance major from Canfield, Ohio. He is currently pursuing a BSBA in Finance on the Certified Financial Planner track. He is also currently doing research and drafting for a patent attorney and is an active member of the YSU Student Investment Fund. He plans to finish his undergraduate studies at YSU and then either pursue law school or a Certified Financial Analyst certification. Burdette was matched with SERVPRO.
Rebecca Catlos is a junior, pursuing a double major in marketing and supply chain management, a minor in entrepreneurship and a certificate in enterprise research planning. She currently works as a State Tested Nurse Aide at St. Mary's Alzheimer's Center. Catlos currently serves as the vice president of the National Society of Leadership and Success, and the vice president of membership and PR of Beta Gamma Sigma. She plans to obtain her Master of Business Administration. Catlos was matched with JLC Services Inc.
Adam Czerniak graduated in May 2023 with his BSBA degree in Supply Chain Management Track. He has spent 6 years in the military working on active duty for 3 years and has currently been in the Air National Guard for 3 years. Over the last 6 years, he has been working in the logistics field, and he plans to continue in this field.
Zach Clark is a third-year student pursuing a degree in General Studies with a dual minor in Management and Marketing. Clark has worked all through college at the Kilcawley Center on campus, working as part of the setup crew for half a semester before getting promoted to Building Manager, a position he has continued in for three years. Clark will be pursuing an internship with the Ohio Small Business Development Center at YSU.
Talita Foschi de Souza, a junior majoring in Marketing Sales with a minor in Graphic Design at YSU, is expecting to graduate in the fall of 2024. Originally from São Paulo, Brazil, and currently residing in Youngstown, Foschi de Souza is fluent in Portuguese and English and competent in Spanish. She is involved in the International Student Organization on campus. She plans to work in Marketing Sales and Advertising and be involved in entrepreneurial activities. Foschi de Souza was matched with Dawn Incorporated.
Jason Gibson is from Niles, Ohio, and is currently pursuing a BSBA with a major in Finance and a double minor in Economics and Marketing. He is expecting to graduate in the Spring of 2024. For the past two years, Gibson has worked on campus in Jones Hall for First Year Student Services as an office assistant. He plans to become a certified Financial Modeling & Valuation Analyst, with the desire of becoming an investment banking analyst upon graduation. Gibson was matched with Hunt Valve Company, Inc.
Samantha Heikkila graduated in May 2023 with a BSBA in the Individualized Curriculum Plan with a focus on international business. She has been involved in various on-campus organizations, including the International Business Organization and the Bible Talks Organization. She will be pursuing a career in marketing or international business.
Natasha Miller, is a sophomore, originally from Grand Rapids, Michigan. She is majoring in accounting but wants to explore the idea of having a career in procurement. Upon completing her bachelor's degree, she plans to pursue a master's degree at YSU. Miller was matched with Power Tool and Supply.
Sophia Miller, originally from Grand Rapids, Michigan, is a second-year student currently majoring in Business Administration. She has work experience as a shift supervisor at multiple restaurants and currently holds a manager position at a restaurant in Boardman, Ohio. She plans to pursue and build a career in the marketing field.
Nadia Pace, from Oakland, California, graduated with a BSBA in entrepreneurship. She was involved in the Student-Athlete Advisory Committee, Black Student Union and Presidential Mentors. She is also currently working with the small business, Dalia's Caribbean Kitchen as the marketing and social media manager. Pace plans to obtain her Master of Business Administration in Marketing at Clark Atlanta University. Pace was matched with Simon Roofing and Sheet Metal Corp.
Jakob Peters, is a senior economics major from Boardman, Ohio, pursuing a BA in Economics with a minor in International Business. Peters is currently an intern for the Ohio Small Business Development Center at YSU, and prior to the Procurement Internship Program, he completed the Ohio Export Internship Program. He also works as a tutor at the Resch Academic Success Center. He serves as vice president of both the Economics Club and the International Business Organization, and he is also an Eagle Scout. He is aspiring for a career in international trade or government contracting. Peters was matched with Tri County Tower LLC.
Charles Quinn is pursuing a bachelor's degree in Business Economics. He currently represents the WCBA in student government while also being an officer in Economics Club. Quinn has also worked as a Residents Assistant for two years and plans on graduating in Spring of 2024. He plans to pursue a master's degree. Quinn was matched with Petra Power.
Tien Tran is a senior pursuing a bachelor's degree in Anthropology and minoring in Business. He was born and raised in Youngstown, Ohio, and went to Boardman High School. He is the first generation of Vietnamese Americans, trailblazing a path as the first college student from his family. His previous work experience includes Sunglass Hut sales associate in Southern Park Mall, and a UPS package handler. He hopes to make an impact with his degree in pursuing goals that can help people and open his own business one day. Tran was matched with REM Electronics.