Waddlin' along: Students complete mural in future Deibel Park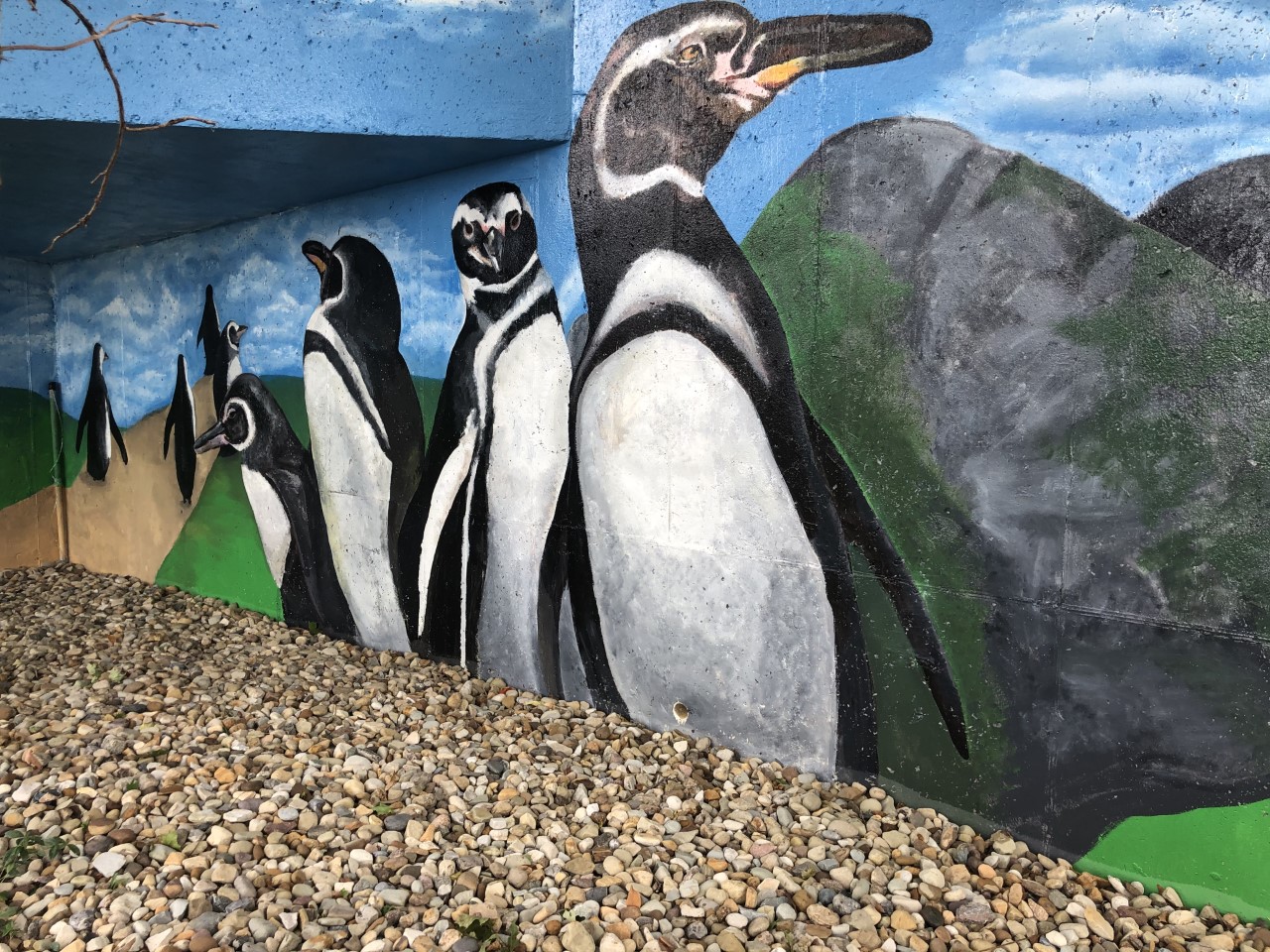 Twenty-four majestic penguins, some more than 10-feet high, adorn a recently-completed panoramic mural in a new park under construction in a hidden corner of the Youngstown State University campus.
The 60-foot by 13-foot mural, designed and painted by YSU students Rachel Hritz and Verena Bo Gyeong Son, is the highlight of Deibel Park, a small, shaded spot nestled in a little-known area of campus – behind the Arms Family Museum, just east of the WATTS center, just north of the R4 parking lot for Buechner Hall students.
The park itself is still under construction and won't be officially open until Spring 2022, but if the large, colorful mural is any indication, it could quickly become a popular, peaceful campus hang-out. 
"We think this could be a very special space on campus," said David Ewing, YSU associate director of Grounds. "It's a beautiful spot. The mural is fantastic, and we're looking forward to completing the project over the next few months."
It's no surprise that the location of the park is unfamiliar. Until recently, the small lot contained a single-family private home, mostly hidden from view by trees. When the owner of the house passed away, the property was purchased by the YSU Foundation.
 
The park, funded by and named after Dave Deibel, former chair of the YSU Board of Trustees, and his wife, Holly, longtime supporters of the university, also includes a walkway from the parking lot at Wick and Weller residence halls to the R4 lot.
"It's something we have had on the drawing board for years," said John Hyden, associate vice president for Facilities. "We're glad to see it coming to fruition."
The centerpiece of the park is the mural created by Hritz and Gyeong Son, students in YSU Art Professor Dragana Crnjak's course titled "Mural and Site-Specific Painting." 
Under Crnjak's direction, students in the class have completed several large murals across the area, including the Andrews Avenue Memory Mural. The newest project, by student Gyeong Son and Rose Sulerach Rivera, who graduated in Fall 2020, is two large-scale indoor murals for the Bunker, an indoor golf practice facility at Southern Park Mall in Boardman.
Hritz, a Studio Art major who also worked on the Andrews Avenue project, said murals are more than paint on walls – they can transform neighborhoods, improve safety and impact the socio-economics of a region. "They create energy and excitement and a sense of community, pride and collaboration," she said.
"My goal is to provide students with the hand-on experience of collaboration, problem solving, making community connections while developing the sense of responsibility, ownership and pride in the completed public art that stays after them," Crnjak said.