Two days + 39 pounds of fish = spot in national championship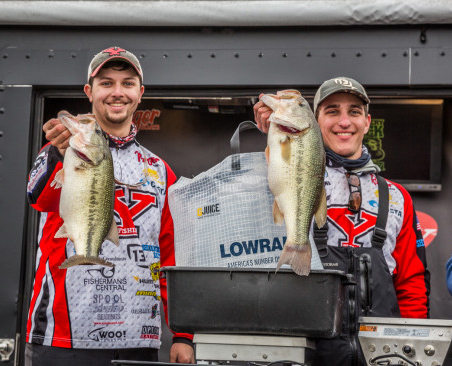 Jonathan Creed and Jared Latone of the Youngstown State University Bass Fishing Club earned a berth in the 2020 intercollegiate national bass fishing championship after placing sixth in the FLW Yeti College Open at Kentucky Lake.
Creed of Niles and Latone of Austintown, both seniors at YSU, hooked more than 39 pounds of fish over two days and beat out nearly 200 others college teams from across the nation, including all of the other Ohio schools in the tournament, to score what is believed to be the highest honor ever attained by YSU student anglers.
"Collegiate bass fishing is really coming on strong around the country as more teams, more schools, are joining the movement every year," said Creed, a History Education major.
Latone, who is majoring in Finance, added, "The growth of the sport has been incredible, and the quality of the competition just gets better and better."
The YSU Bass Fishing Club consists of 20 active members. Latone said the club's next event is at the end of April on Smith Mountain Lake in Virginia and Bull Shoals Lake in Arkansas. The club competes in two series, The FLW and B.A.S.S.
Latone summed up the club's goals: "We mainly focus on catching bass and helping other members to do the same!"