"The Truth Has Changed" comes to campus this week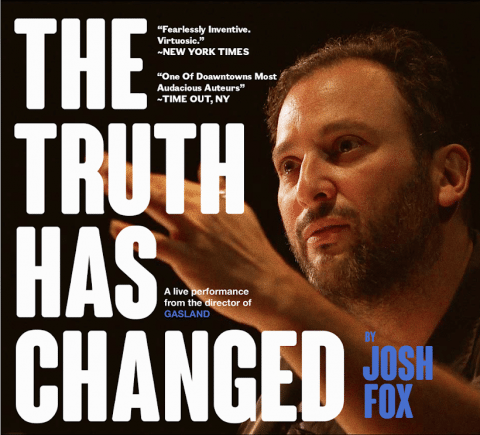 Emmy winner and Oscar and Drama Desk Award-nominated filmmaker, playwright and activist Josh Fox performs "The Truth Has Changed" 7 p.m. Sept. 13 in Room B112 of Cushwa Hall on the campus of Youngstown State University.
The event, free and open to the public, is part of the Youngstown State University Lecture Series on Energy and the Environment.
"The Truth Has Changed" is a live solo monologue tracing the arc of American political life from 9/11 to the Trump era. The piece traces Fox's experiences as a first responder during 9/11, his reporting on fracking, his eco-flights over the Gulf of Mexico during the BP oil spill, Hurricane Sandy, rallies during the 2016 election and the Democratic Convention, Standing Rock and beyond.
Fox, an anti-fracking activist, is best-known for his Oscar-nominated 2010 documentary, Gasland. He later produced the HBO special Gasland Part II, which aired 2013 and was released on DVD in 2014. In 2015, his mini-documentary GasWork, which detailed the unsafe working conditions in the hydraulic fracturing oil and gas drilling industry, and How to Let Go of the World and Love All the Things Climate Can't Change in 2016. His film Awake, A Dream from Standing Rock premiered at the Tribeca Film Festival in 2017.